Toyokawa, a city located in the east of Aichi Prefecture, is home to one of Japan's most marvelous shrines: Toyokawa Inari. A must-visit destination when visiting Japan. Toyokawa Inari is considered one of Japan's Big Three Inari Temples and it is a place worshipped by millions of visitors every year.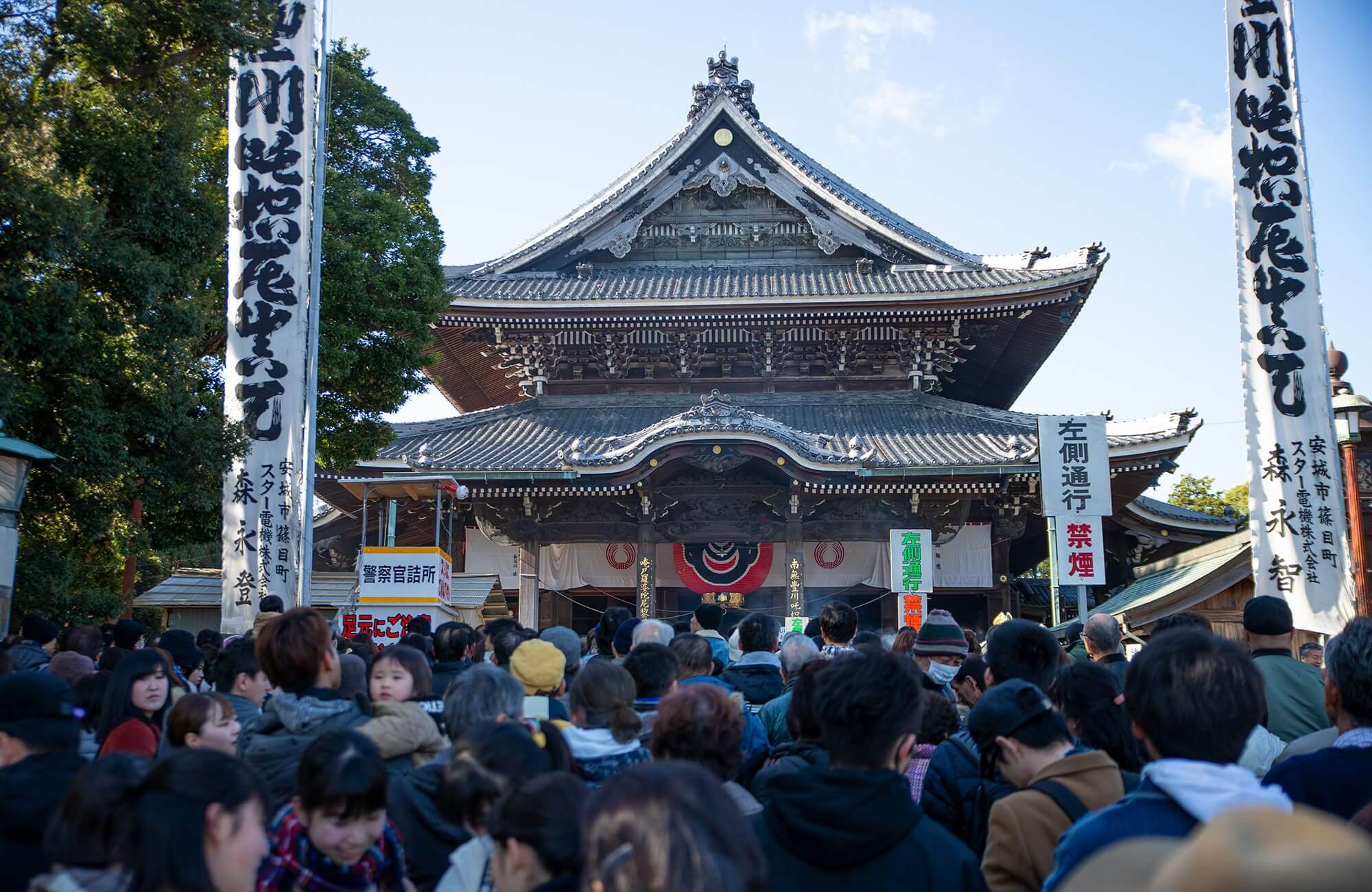 Toyokawa Inari, officially named Enpukuzan Toyokawa Kaku Myôgonji, serves as both a Buddhist and Shinto place of worship. It is dedicated to both the Inari Okami —the fox god— god of fertility, rice and agriculture, industry and worldly success, and to the Buddhist protective deity Dakini Shinten, a deity of happiness and prosperity who averts suffering and brings relief.
A Brief History of Toyokawa Inari
The temple was founded in 1441 by a Buddhist priest by the name of Tokai Gieki, a distant predecessor of the priest Kangan Giin.
The story goes that Kangan Giin (1217-1300), a disciple of Dogen the founder of the Soto Zen sect, had a vision of the deity Dakini Shinten when returning to Japan from his studies in China. In this vision, he saw the deity seated upon a white fox, carrying rice, and bearing a wish-fulfilling jewel in one hand. This deity was reciting a mystical spell: "When this spell is chanted, the faith in me reaches everywhere, and by the true power of the Buddhist precepts, evil and misfortune will be abolished and luck and wisdom attained, suffering removed and comfort achieved, and pain transformed into delight.
"This vision moved Kangan deeply, so he carved an image in the form he had seen and worshipped it as a protective deity.
Toyokawa Inari has been a favorite destination of famous warlords and merchants throughout history. There are stories of important Japanese warriors such as Oda Nobunaga (1534-1582), Toyotomi Hideyoshi (1536-1598), Tokugawa Ieyasu (1542-1616), who came to Toyokawa Inari, prayed for victory, and were graced with decisive battles.
Nowadays, many people come to Toyokawa Inari to pray for success and to seek good luck in their business.
Stroll Around the Grounds
Whenever the station you arrive (the Toyokawa Station for the JR Train or the Toyokawa Inari Station for the Meitetesu train) exit out of the station and go across the humble shopping street called Omotesando Inari Toyokawa. You will stumble upon a large street of local vendors offering delicious local food, and fox/Inari related souvenirs.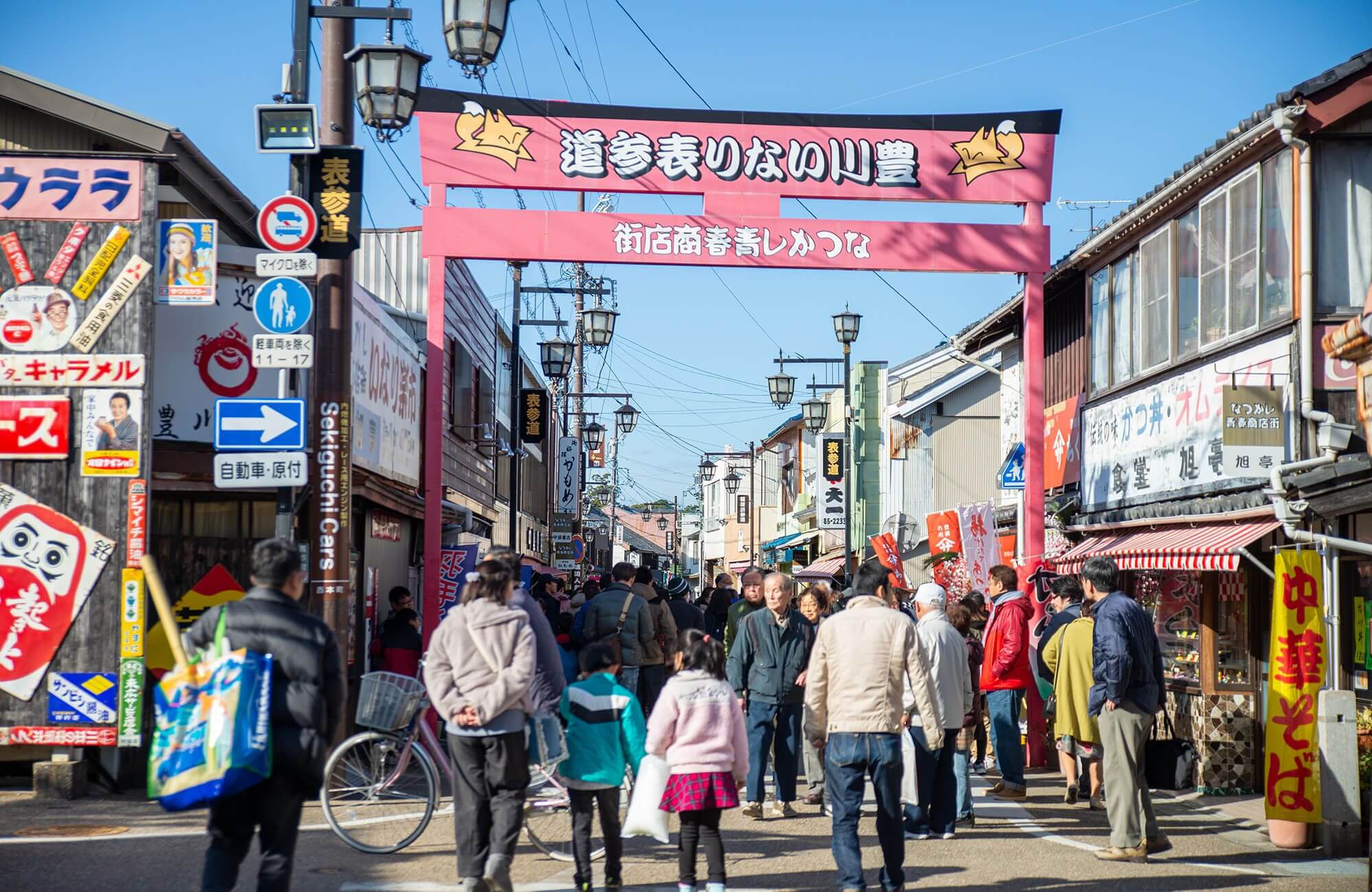 After making your way across the street you will arrive at the entrance of the shrine. The main gate features a huge 4.5-meter-high door crafted from a single slab of wood constructed in 1884. On both sides there are a pair of fierce Buddhist Nio temple guardians protecting the entrance from evil.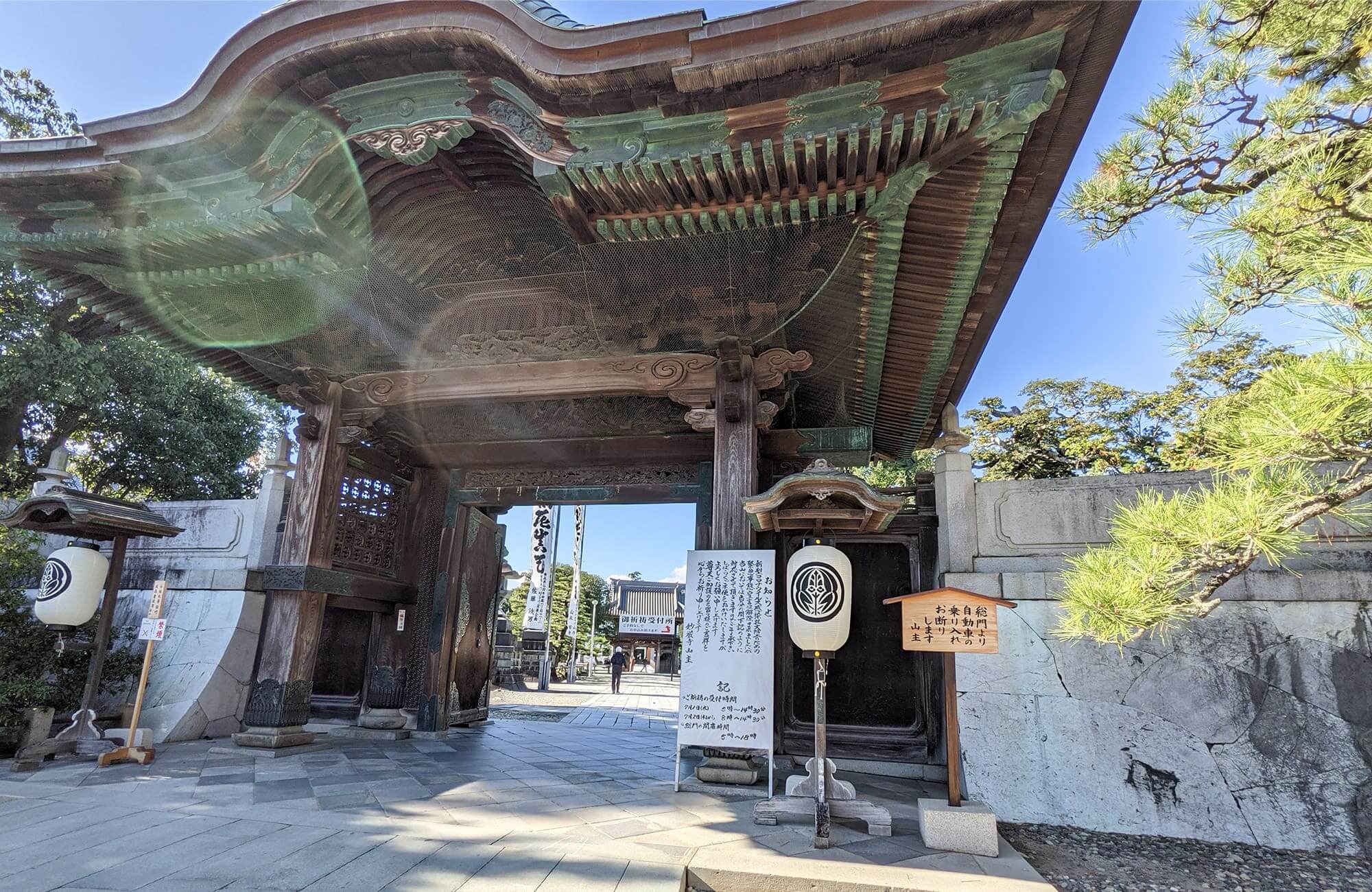 There is no entry fee required for a visit to Toyokawa Inari, but you may want to have a few coins handy to serve as an offering or maybe to buy some Omamori lucky charms.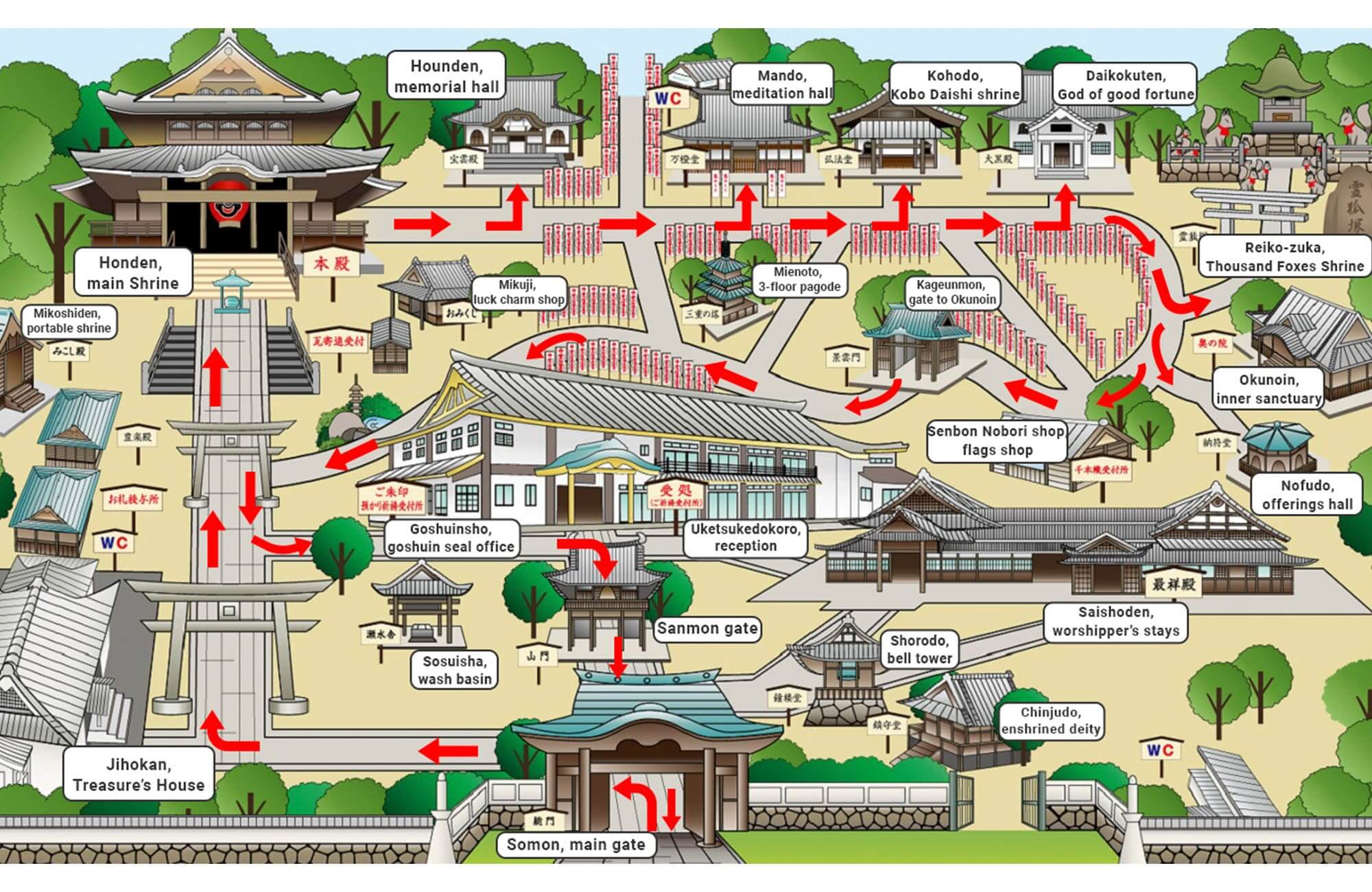 The grounds of the temple comprise about 12.72 hectares and there are around a hundred buildings in all within this temple complex.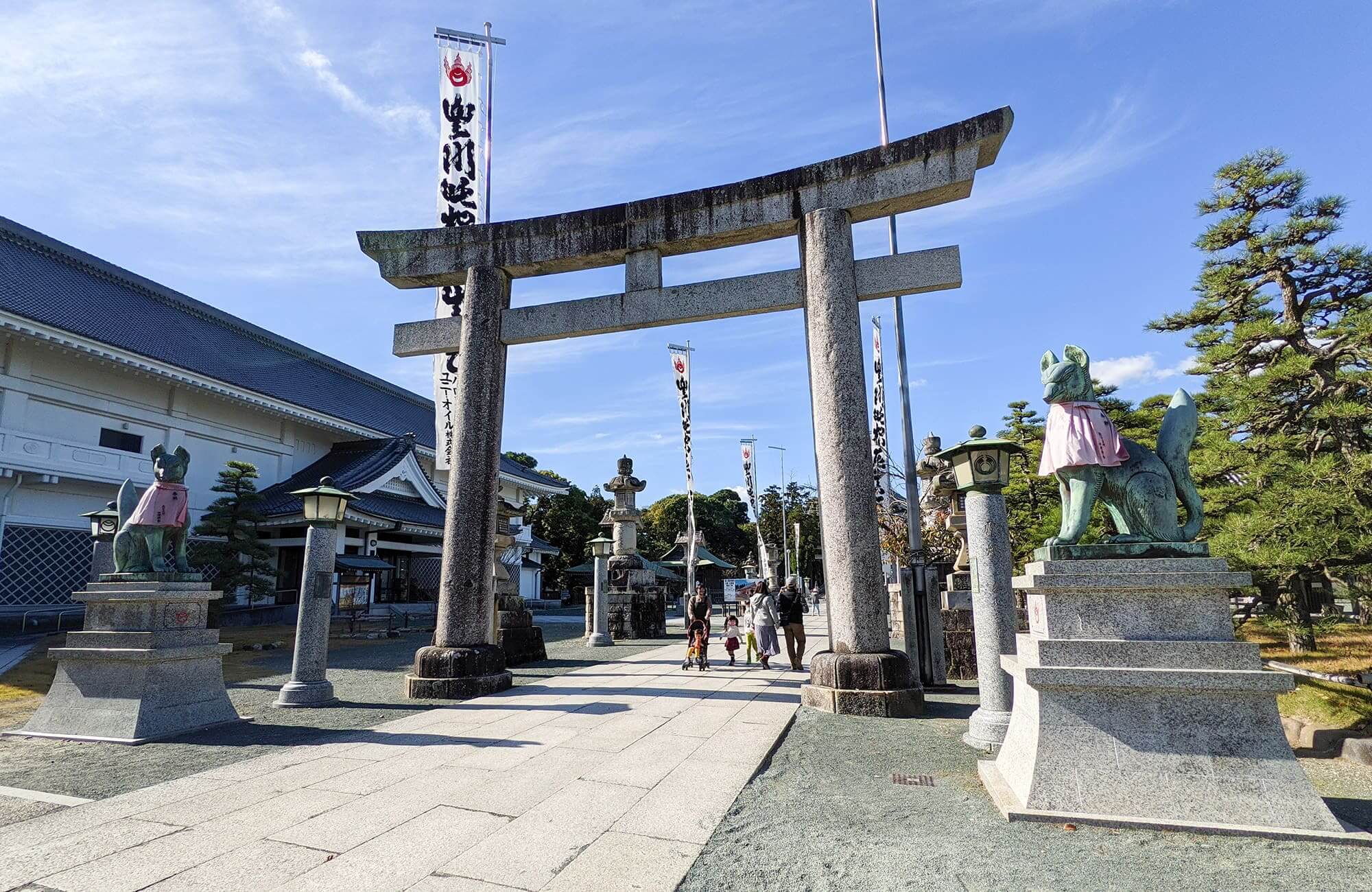 After crossing the threshold of the main gate, you will find the inner gate Sanmon, which dates from 1536, being the oldest existing building in the complex.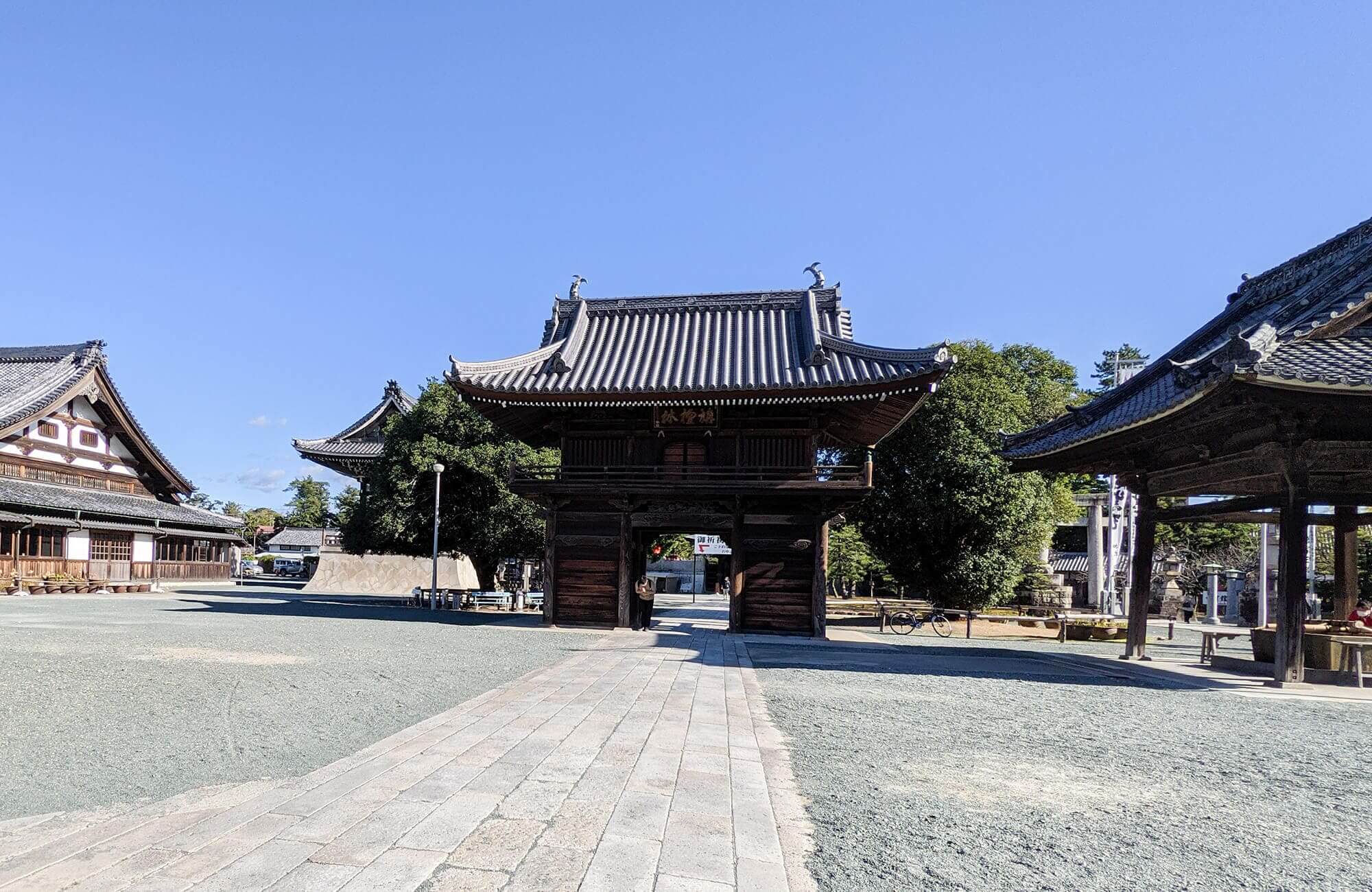 Within the grounds you can find the temple's Treasure House, which features some important national cultural assets and a number of interesting artifacts including Buddha statues, scrolls and folding screens.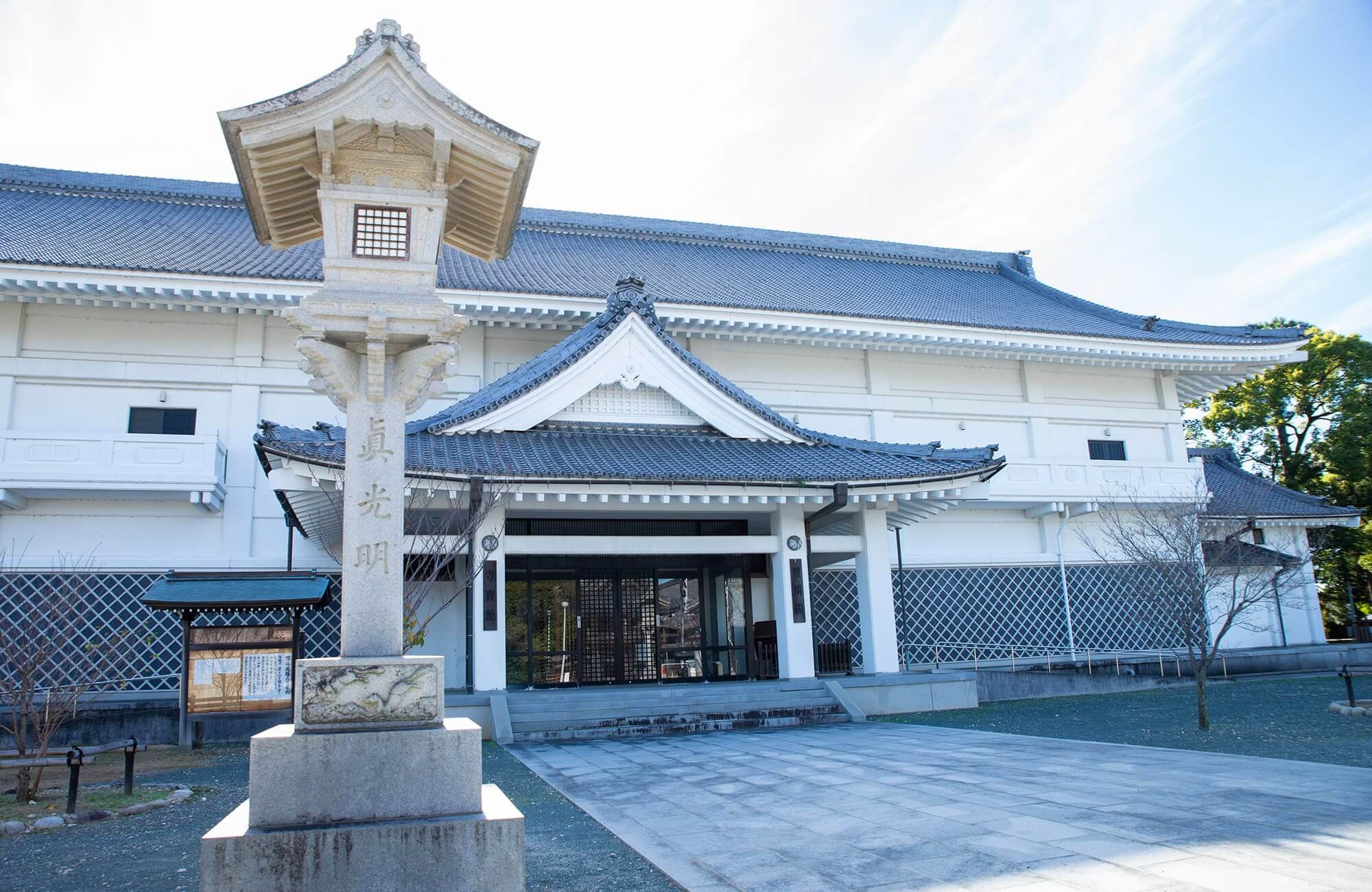 From the Treasure House, head to the main temple, make your offering and follow the path down the steps to the right of the main temple to explore the rest of the grounds.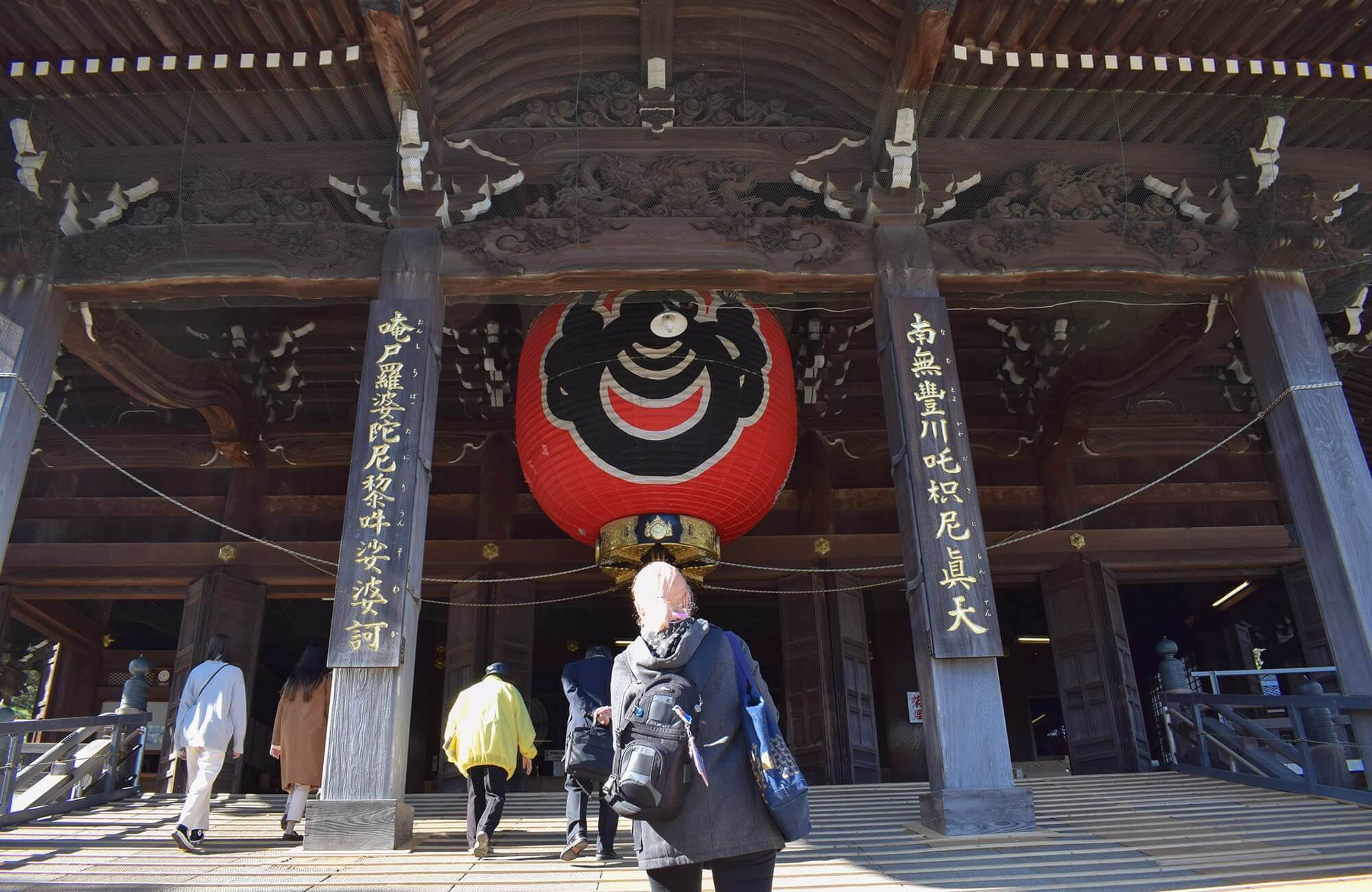 Passing through a winding path lined with flags setup as votive offerings, you will find the Reiko-zuka or "Hill of Foxes" a sacred grove filled with thousands of red-bibbed stone fox statues.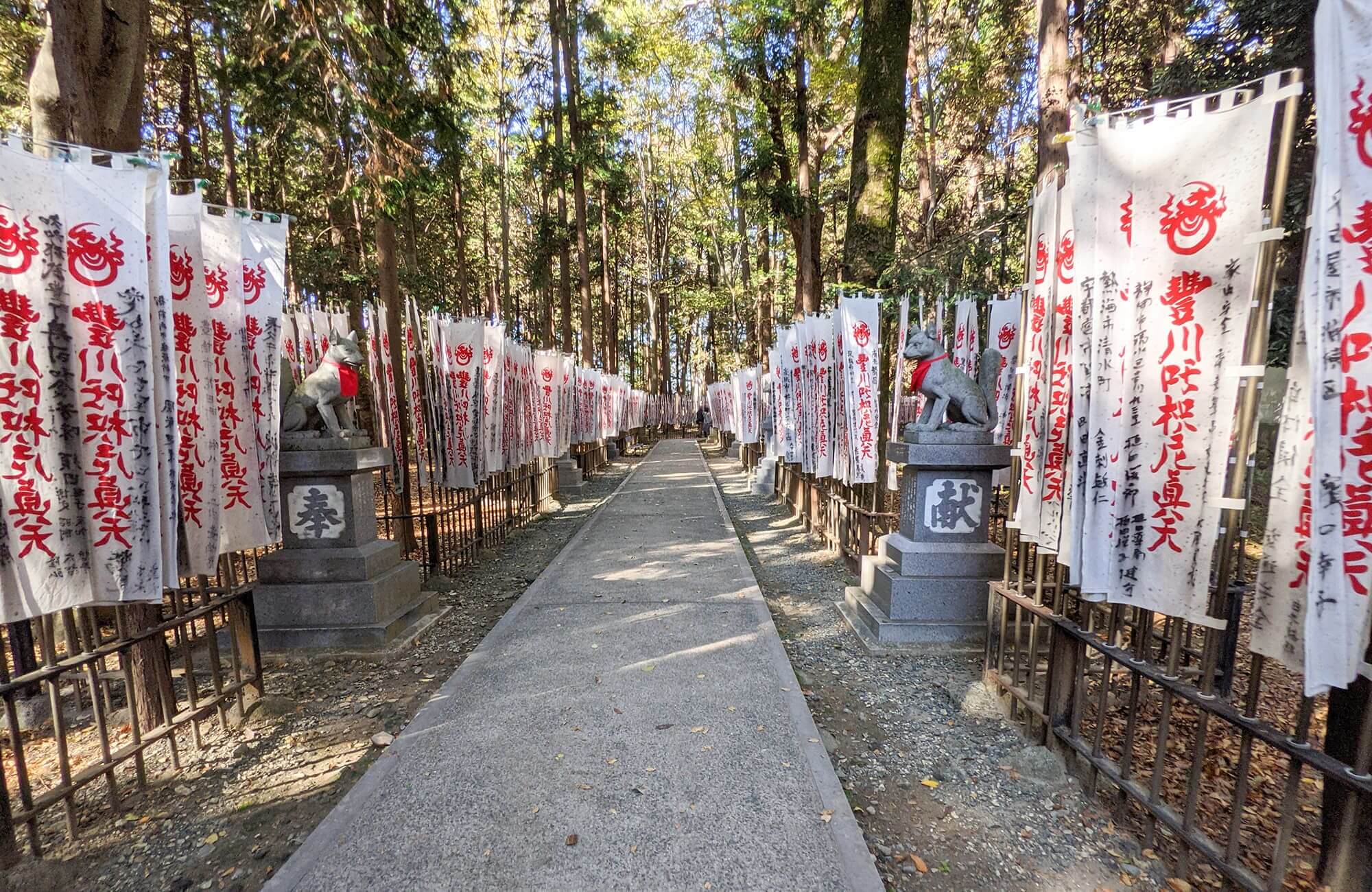 These fox statues are said to be messengers of the deity Inari. Placed throughout the years, by those who had their wishes fulfilled as a symbol of gratitude. This is the main place of interest and the reason most tourists come to visit Toyokawa Inari to take pictures of the hundreds of fox statues.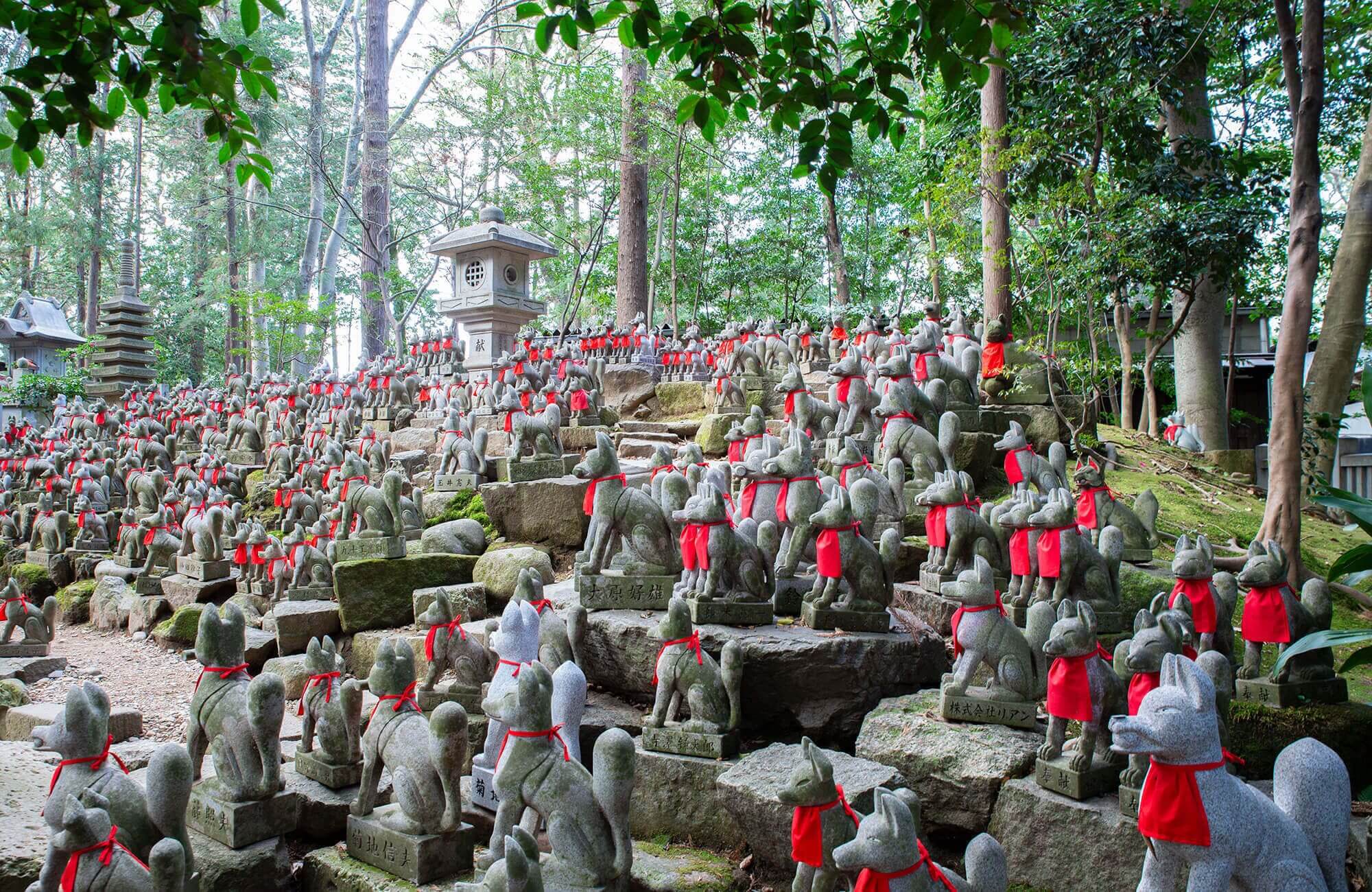 After that, continue exploring other sites such as the sacred pavilion Okunoin, the three-level pagode and the stunning Koi fish pond.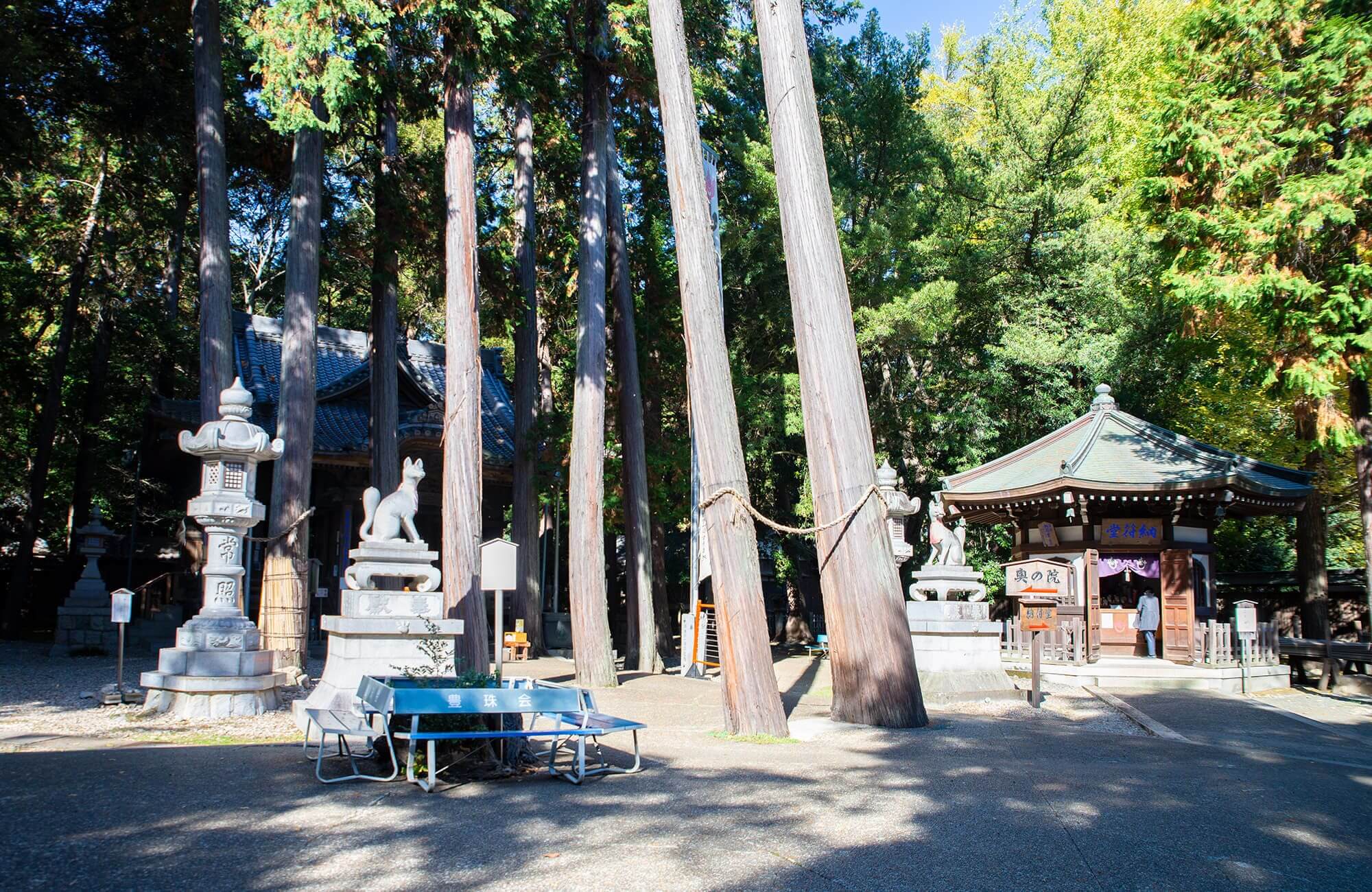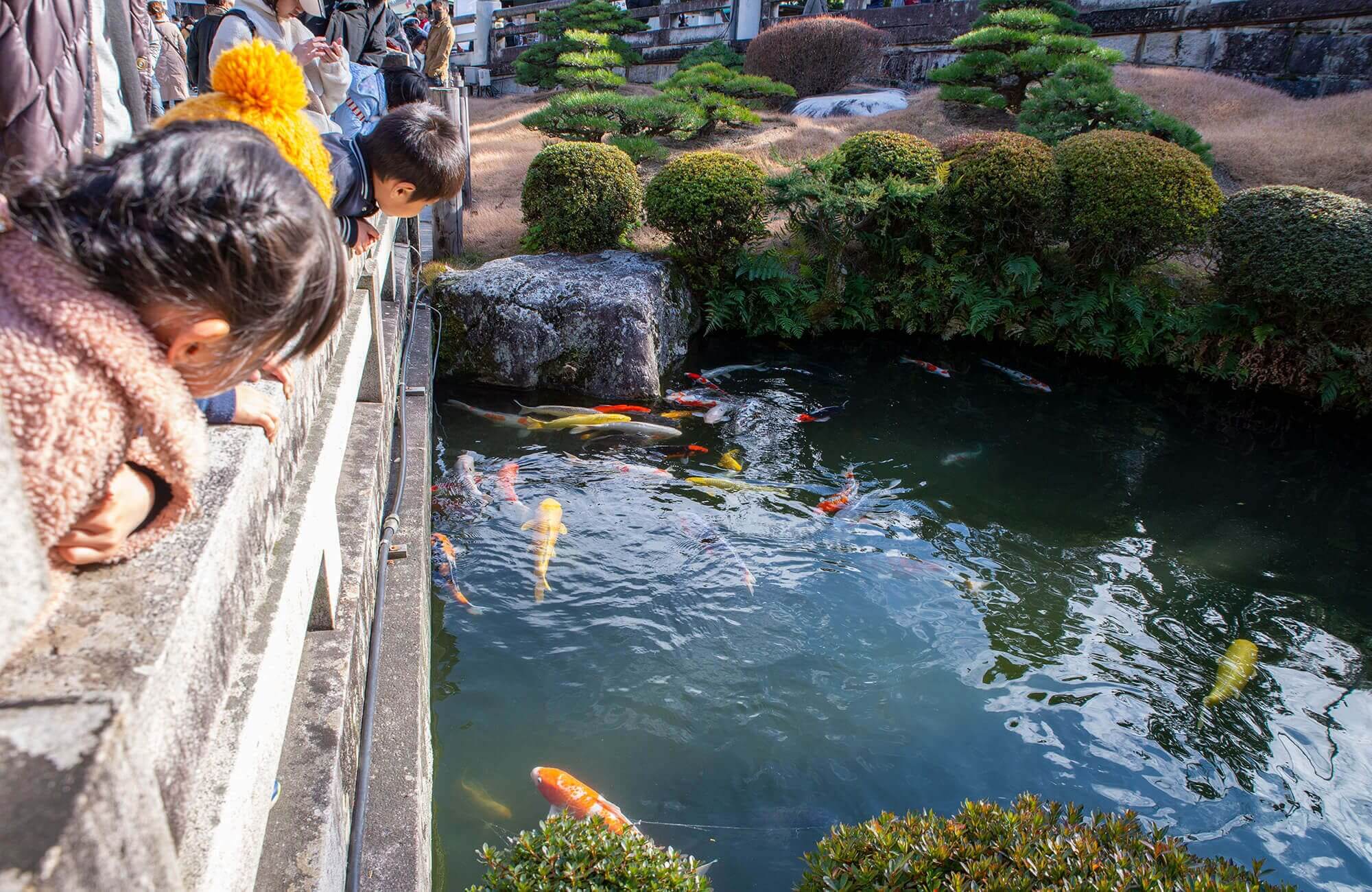 Savor the Local Delicacies
After strolling the grounds of Toyokawa Inari, you will probably crave something to eat. So, take a break and savor the local treats, such as Inari Sushi—sweetened fried tofu pouches filled with Sushi rice.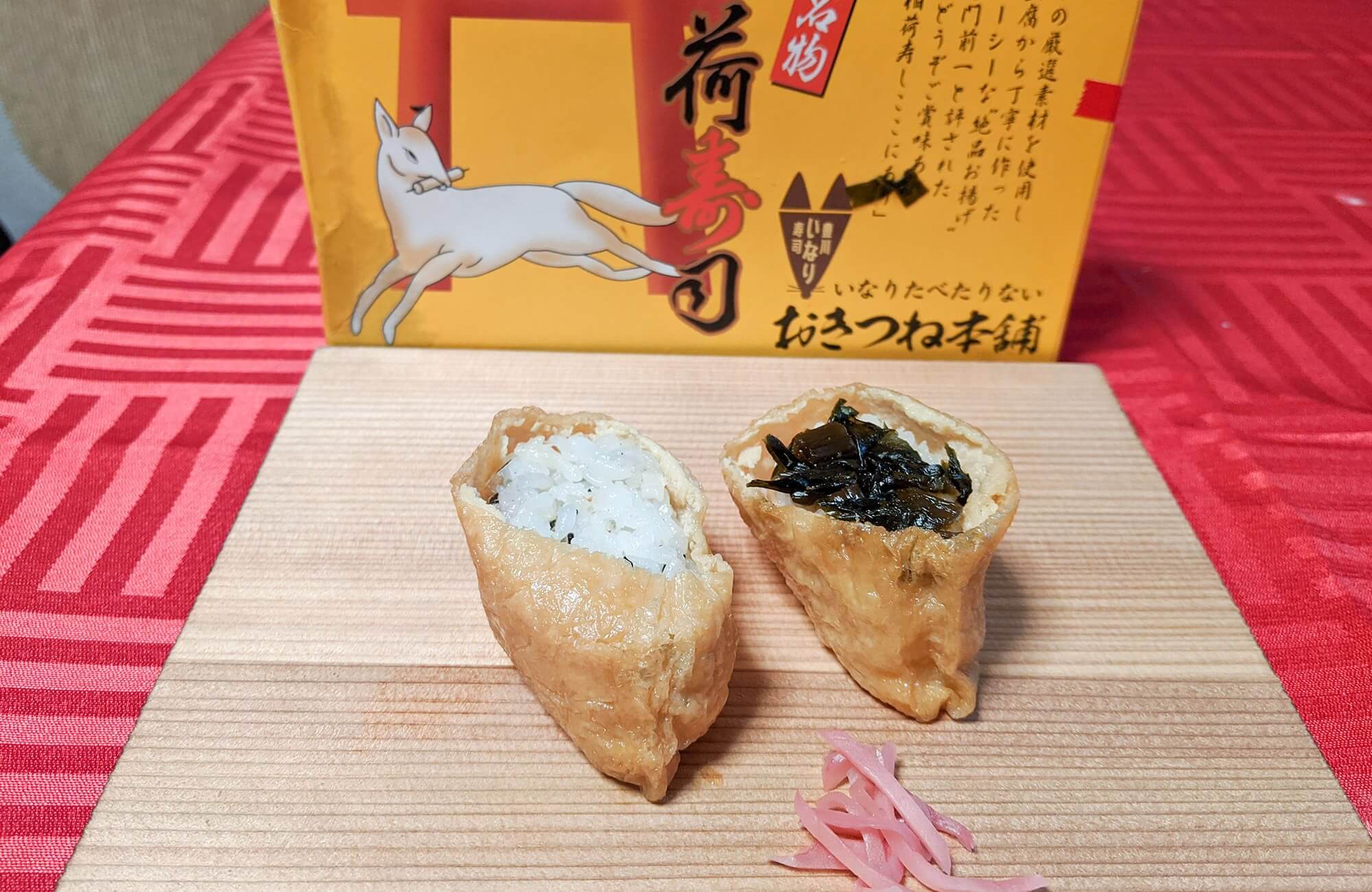 Its exact origins are unknown, but it is said that Inari Sushi was first introduced in Japan during the Edo Period in the late 18th century. People of that time made Sushi by stuffing rice in the deep-fried tofu as offering to the deity Inari.
One of our restaurant recommendations of the area is Musubichaya (むすび茶屋) just about 3-minute walk from Toyokawa Inari.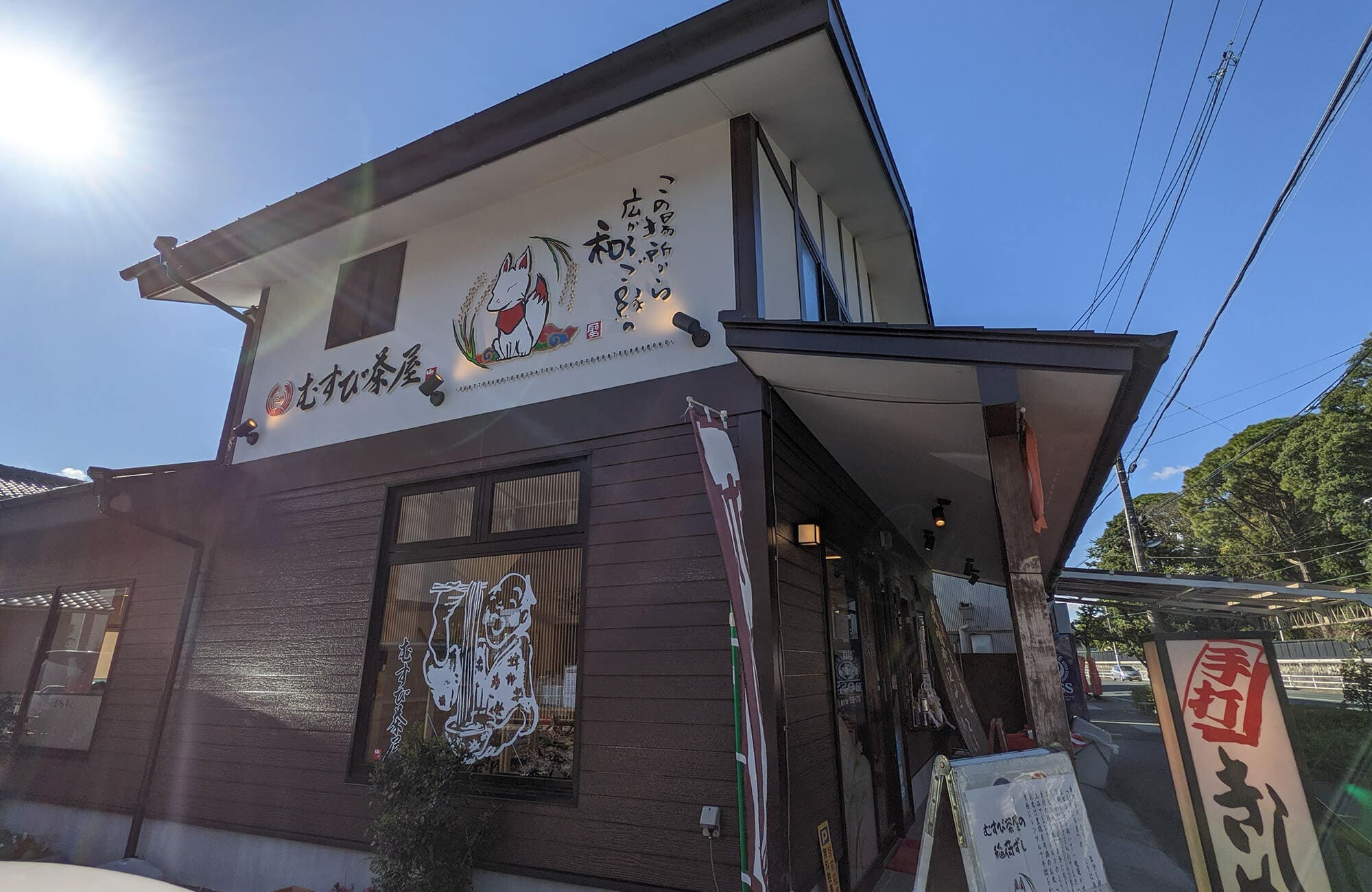 This shop has come up with its own creative twist on Inari Sushi. The tofu once deep-fried is left hanging for one day to remove most of the oil fat and the rice is marinated with Sushi vinegar, sesame, and aromatic Oba leaves (green perilla).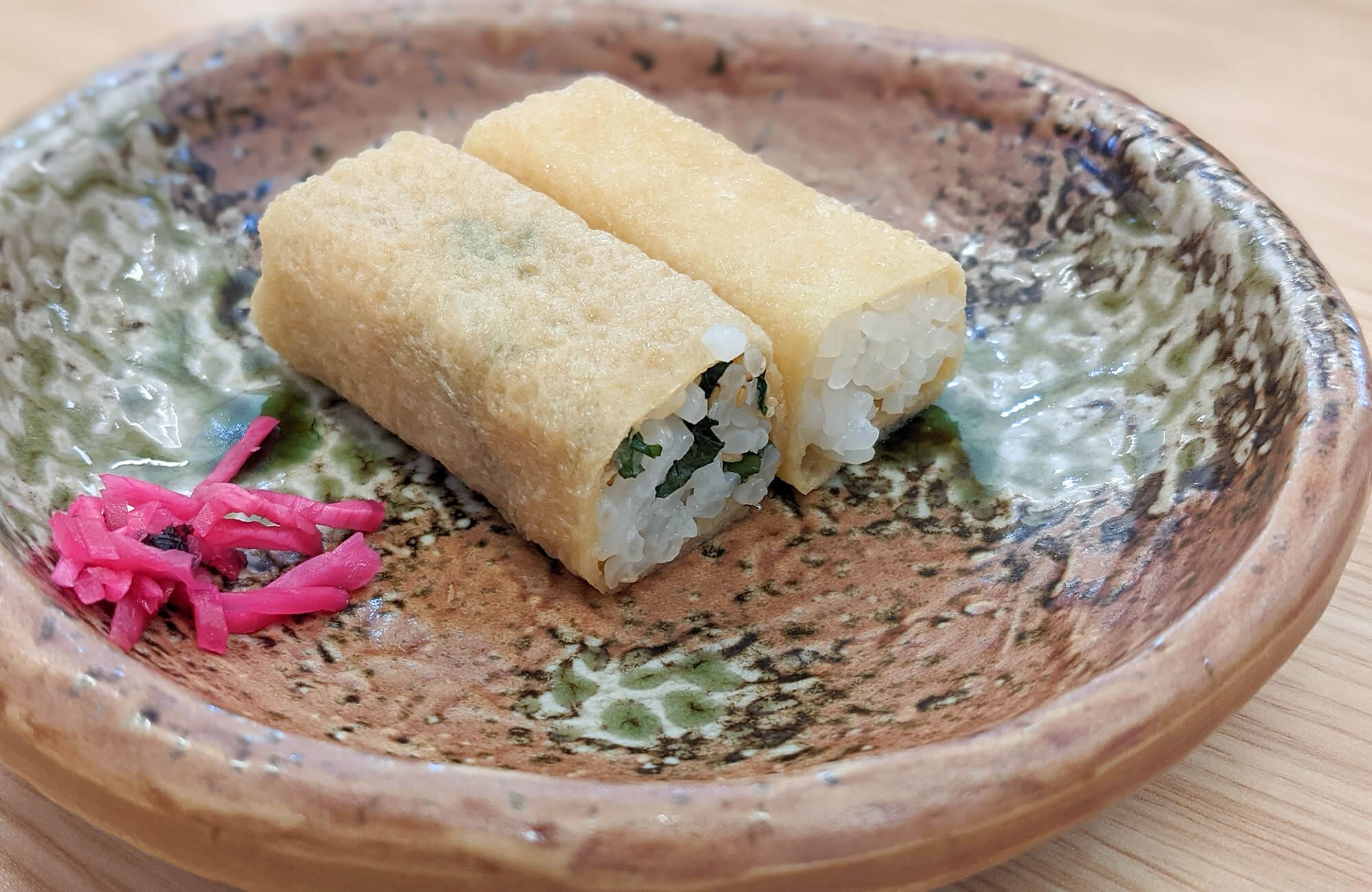 The Inari Sushi is served with Kishimen, flat noodles that are served with a cold Bonito broth or hot in a vegetable broth.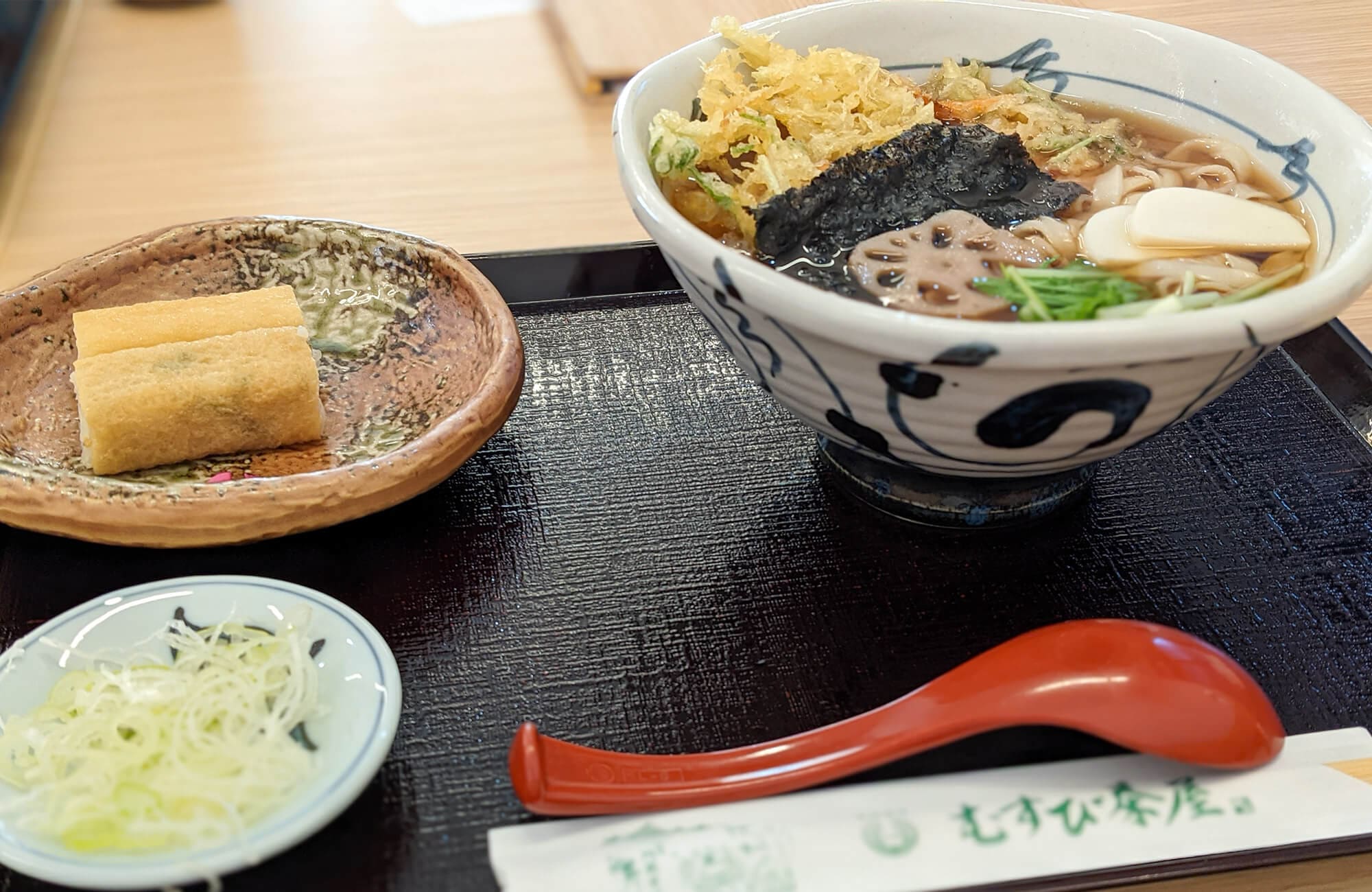 Another delicious regional dish you can try is Miso Nikomi Kishimen (a flat noodle dish served in a piping hot red Miso based soup).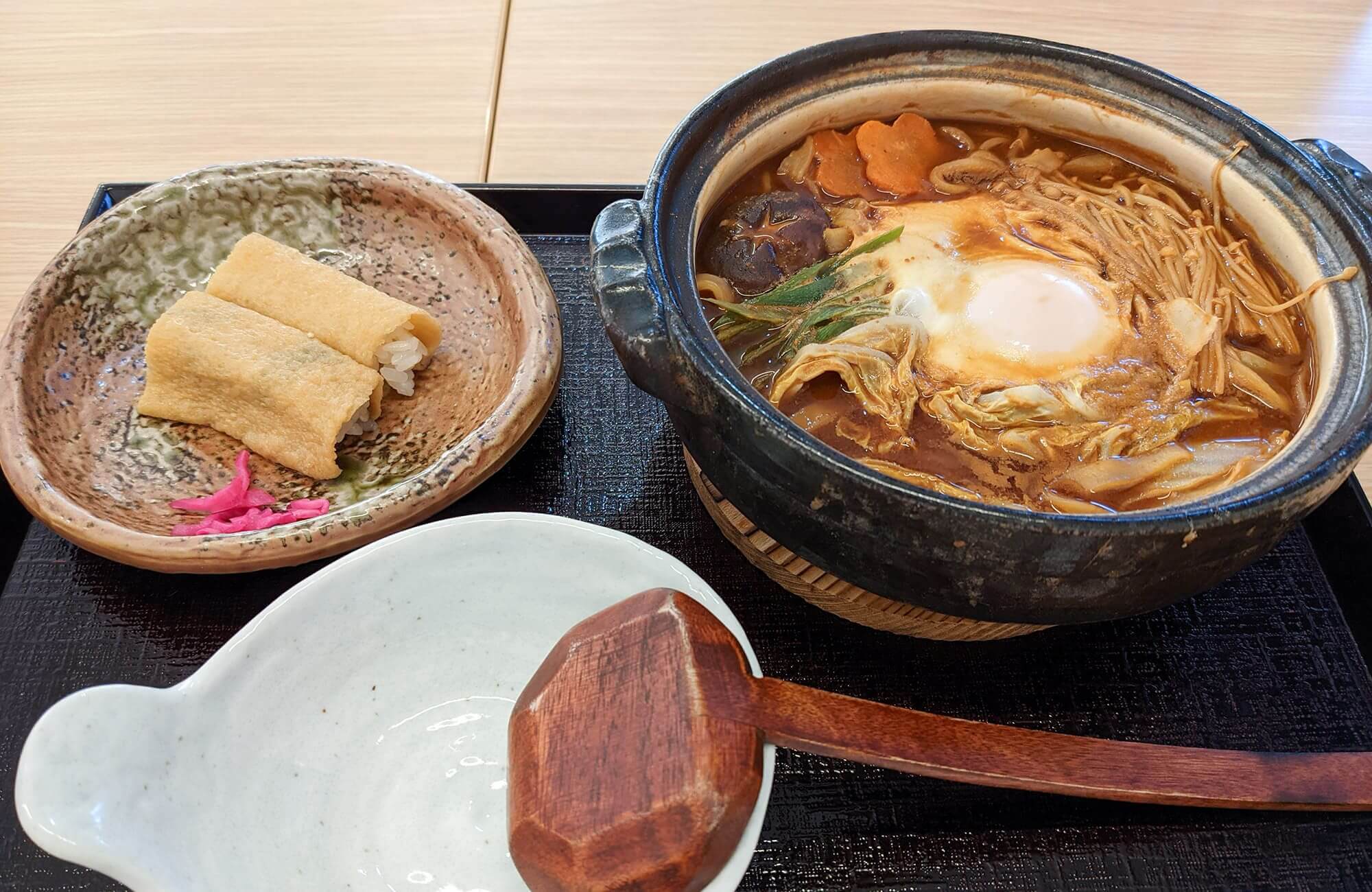 Paint Your Own Japanese Fox Mask
Foxes are special creatures in Japanese culture, appearing as protectors with the power to ward off evil spirits. Inspired by the Noh theater, fox masks are worn to pay tribute to gods during many Shinto festivals.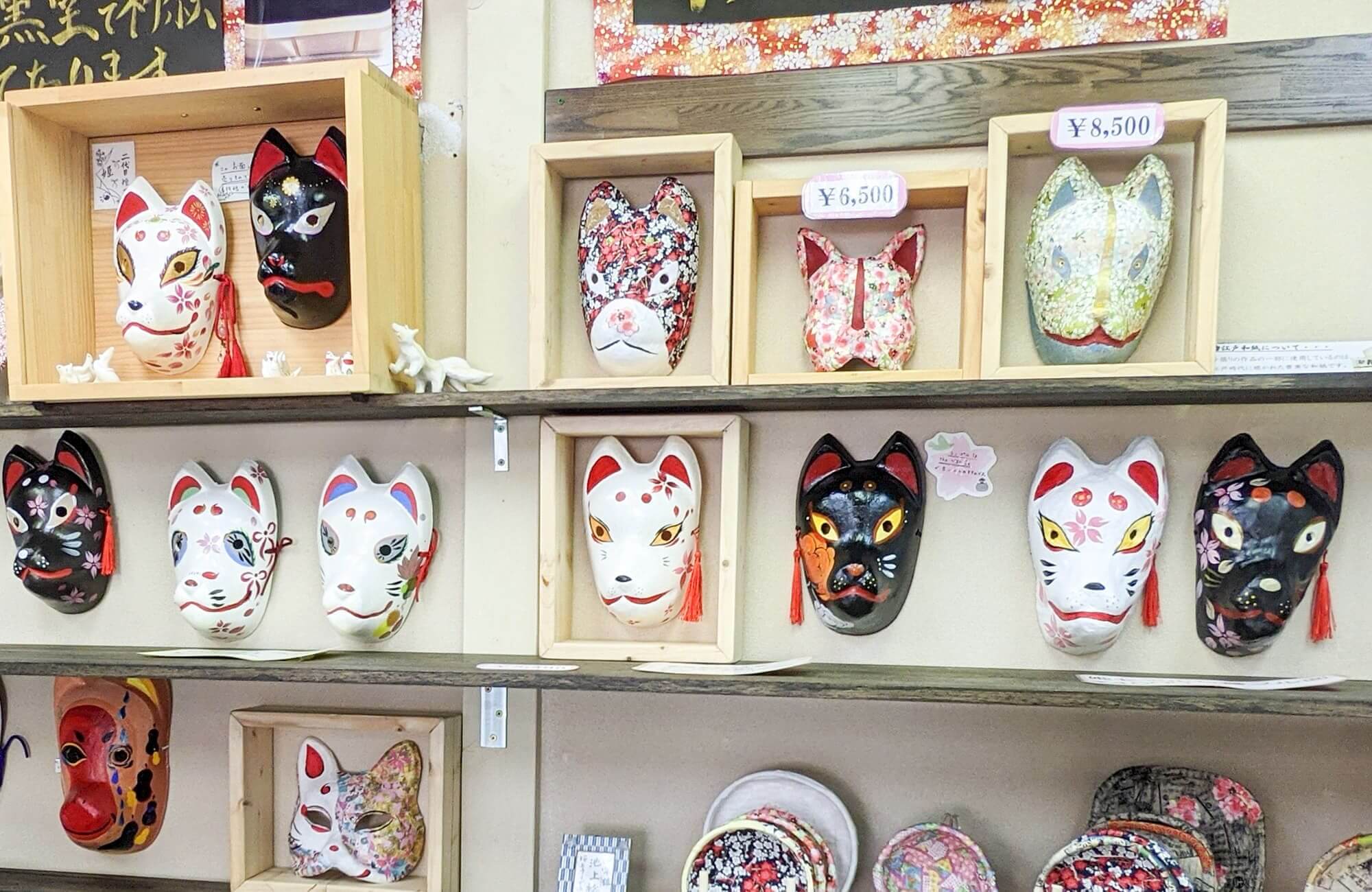 There is a small shop called Shiki Gitsune that specializes in fox masks and offers a hands-on fox mask painting experience that will enrich your trip by creating lovely handmade souvenir to take home and it will be a fun experience to remember.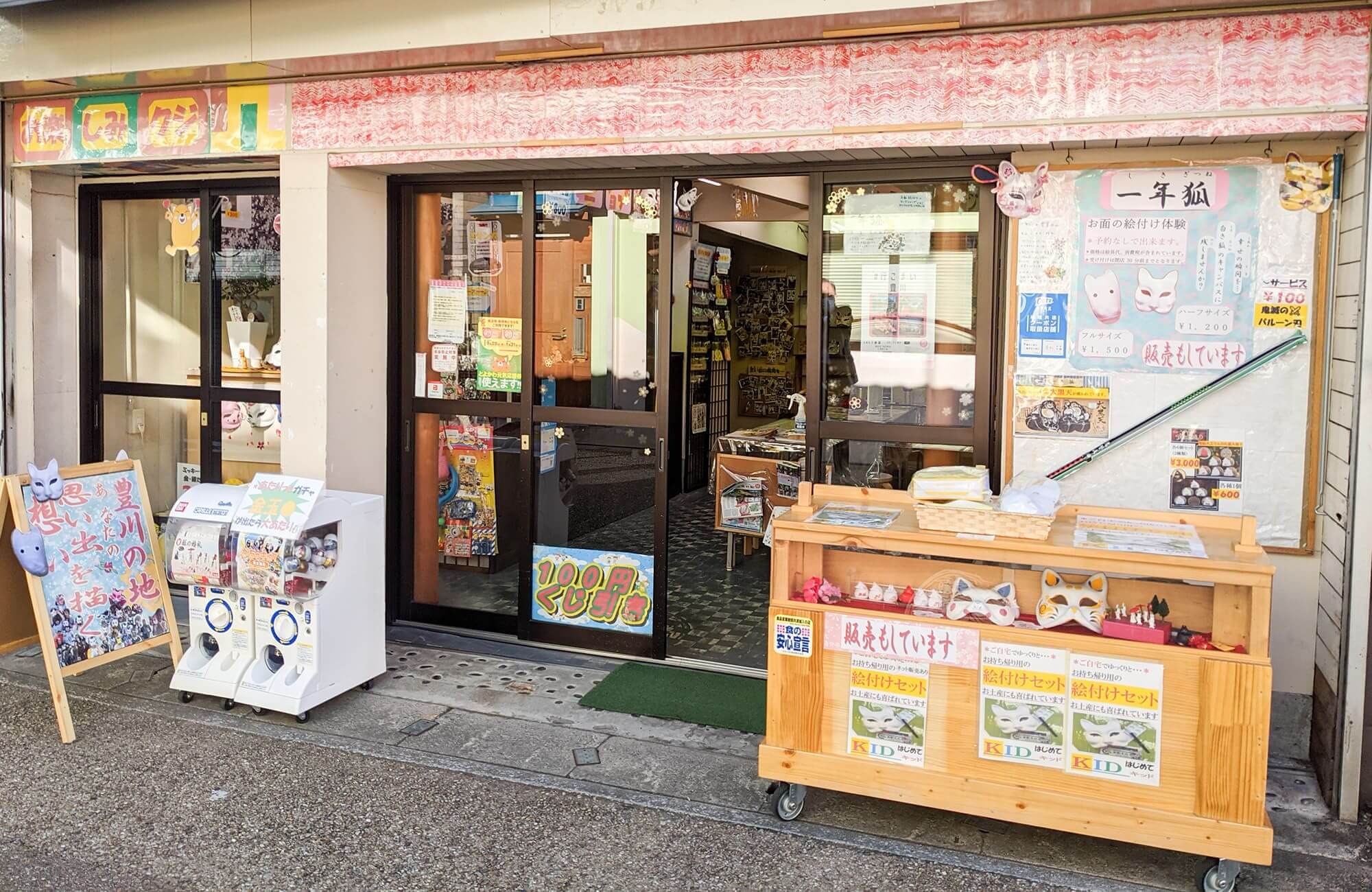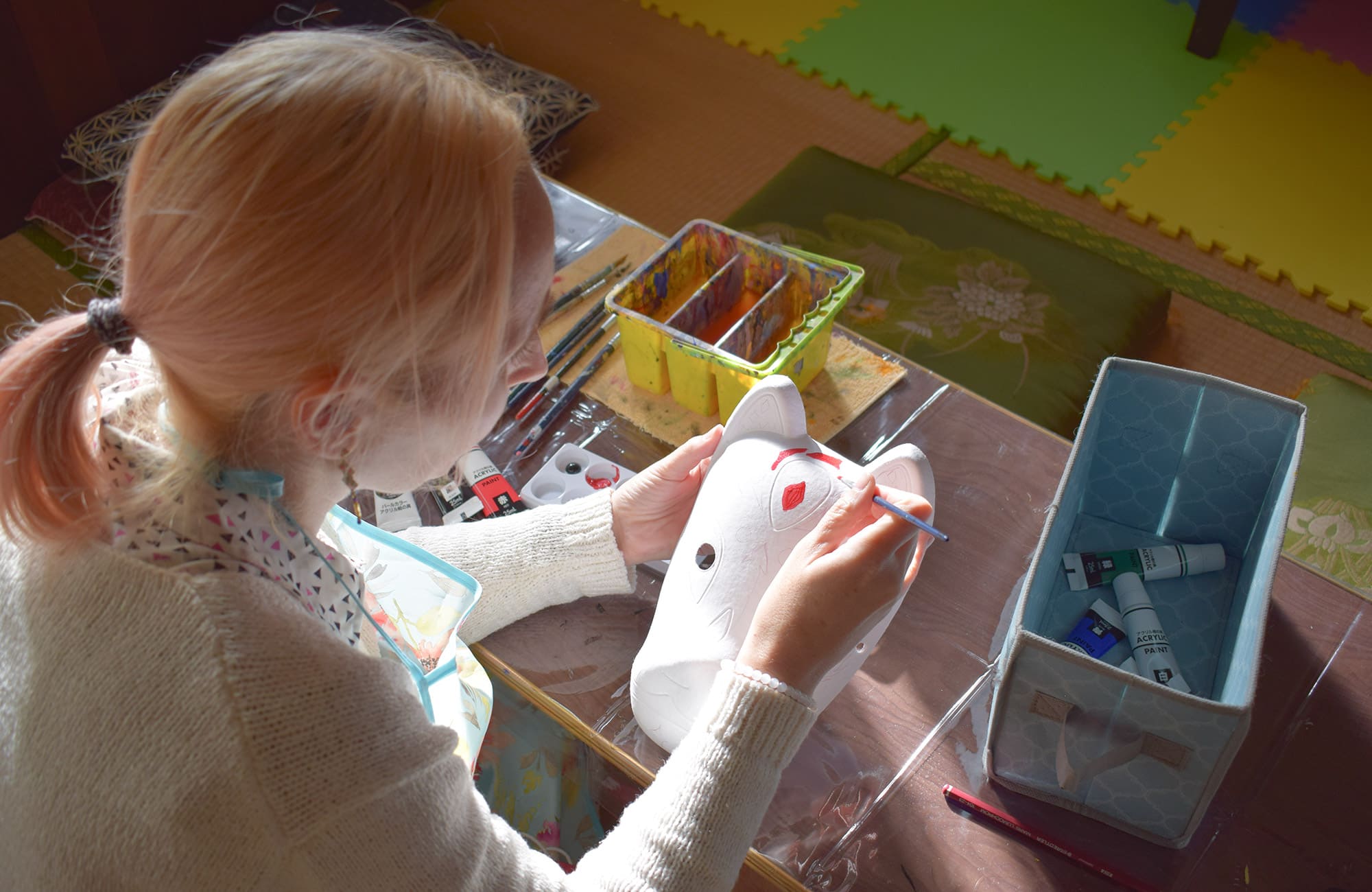 The steps are super easy:
1. Choose the size of the mask: either half size or full-sized.
2. Think about the design: you will have many samples to copy or if you feel inspired, you can paint your own and unique design.
3. Practice with brushes: even if you are not very familiar with brushes you can practice a little with the different brushes you will use.

4. Draft your design: use a pencil to draw the design on the mask

5. Paint on the mask: use acrylic paints to bring your design to live on the mask but be careful not to stain yourself with the acrylic paints.

6. Let the paint dry: This will take just a few minutes and you will be able to take the mask with you right away.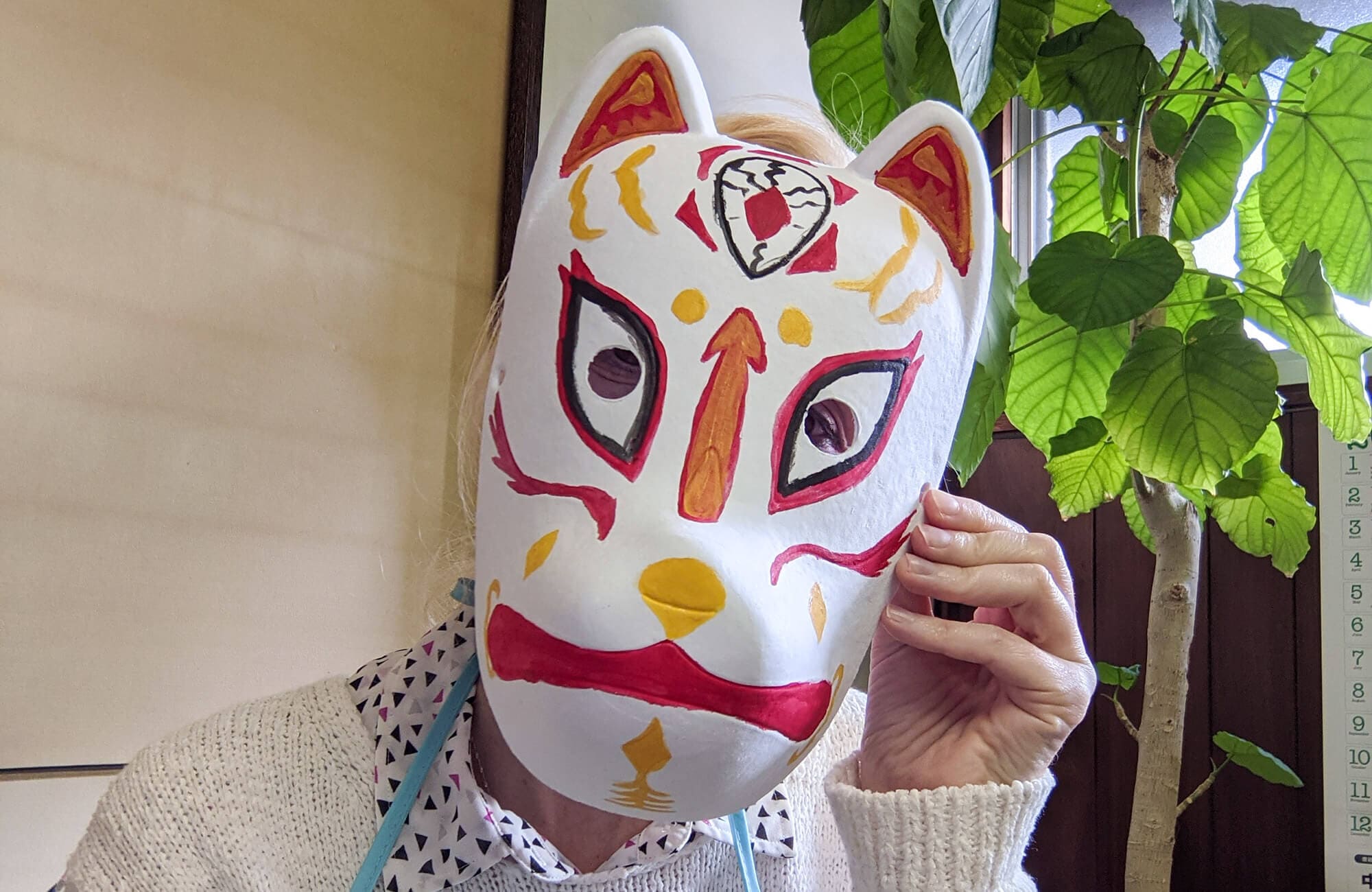 This experience will take from 30 minutes to one hour. But depending on how detailed you want to paint the mask you will probably need a little more time. The experience costs around 1,200 yen for the half size mask, and 1,500 yen for the full-sized mask. You don't need to prepare anything in advance since the shop will provide everything you need. After the experience take a look at the many fox related goods and figures that are exhibited in the shop and maybe buy something special.
Get to Know the Major Toyokawa Festivals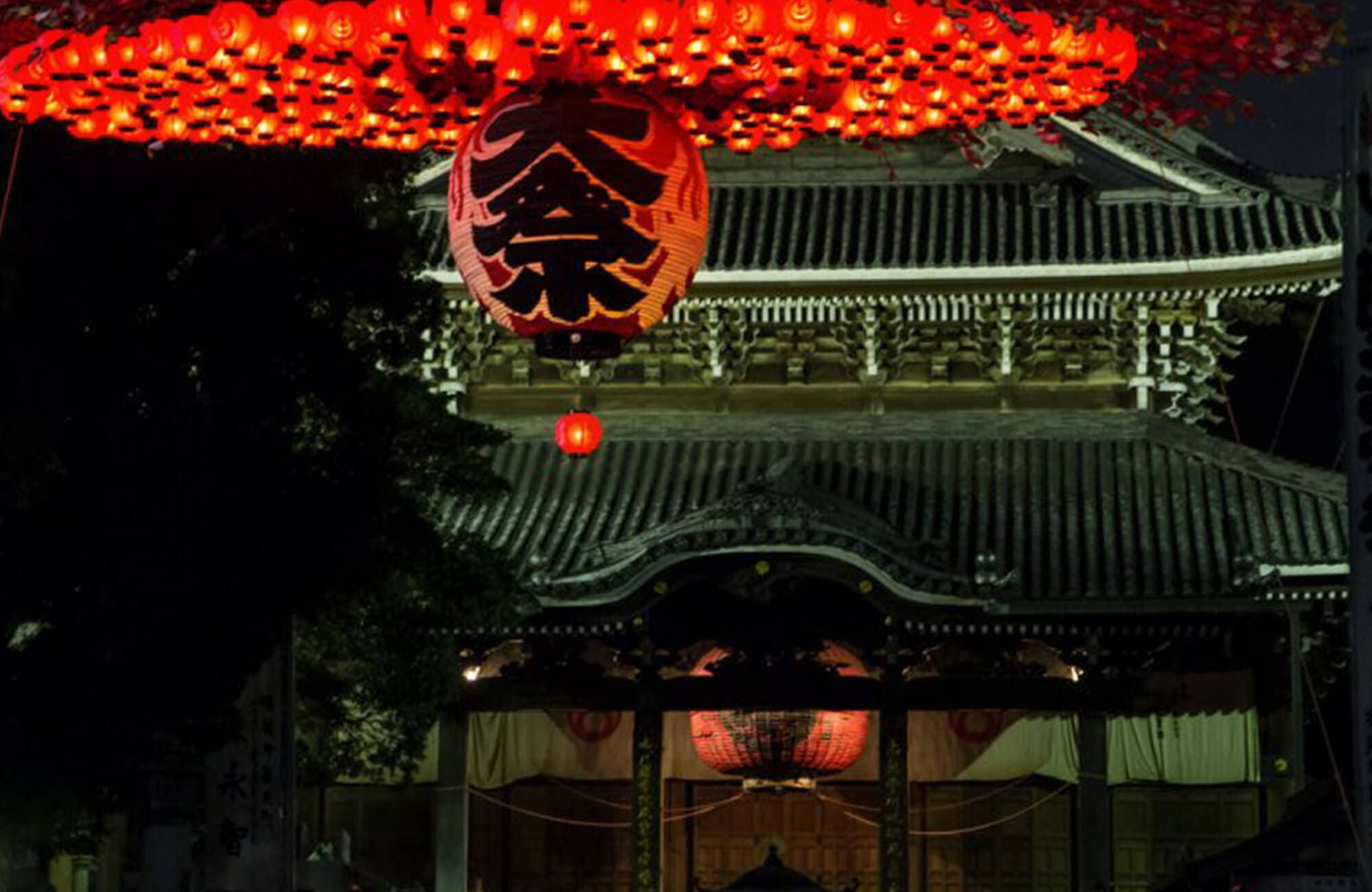 Toyokawa has many amazing festivals all year round, so if you are lucky there might be one going on during your visit. These are the major festivals held annually in Toyokawa:
Toga Shrine Annual Festival
When: May 3rd, 4th, and 5th
Where: Toga Shrine
Summary: A horseback archery exhibition by young boys aged between 10 and 15.
Spring Festival of Toyokawa Inari
When: March 4th and 5th
Where: Toyokawa Inari Shrine
Summary: Parade of kids dressed in traditional clothes and a Mikoshi (small shrine) parade.
Toyokawa Civic Festival "Oiden Sai"
When: 4th weekend of May
Where: Many stages of Toyokawa city
Summary: A Yosakoi festival, japanese folk dance, where thousands of dancers are performing on different stages around the city.
Toyokawa Summer Festival
When: Mid-July
Where: Toyokawa Susanoo Shrine
Summary: A display of amazing fireworks such as Tezutsu hand-held fireworks, Ozutsu giant cannon fireworks, floats and portable shrines parade and traditional dances.
Ko Summer Festival
When: Late July
Where: Taisha Jinja Shrine
Summary: A Kabuki parade with a procession floats and fireworks display.
Toyokawa Civic Festival "Arm-hold fireworks Festival"
When: Late August
Where: Toyokawa City Baseball Stadium
Summary: One of the biggest events in Toyokawa featured by the amazing Tezutsu hand-held fireworks with more than 400 years of history.
Toyokawa Inari Great Autumn Festival "Chinzasai"
When: Late November
Where: Toyokawa Inari
Summary: A fall festival where giant lanterns are displayed, traditional parades with small portable shrines procession.
Travel Tips
Since it is just one stop from Toyokawa Inari Station, it is a nice idea to make a stopover for Toyohashi and visit its many interesting attractions such as Yoshida Castle, Yoshida Park, take a ride on the picturesque tram that crisscrosses the city and get to know one of the Japan's most spectacular handheld fireworks Tezutsu Hanabi.
How to Get Here
If you are coming from Tokyo station, take the Tokaido-Sanyo Shinkansen (bullet train) , transfer to the Iida line at Toyohashi Station and get off at Toyokawa Station. From there, it's an eleven-minute walk to Toyokawa Inari.
If you are coming from Nagoya station take the Meitetsu Nagoya Main line bound for Toyohashi and get off at Toyokawa Inari Station. From there, it's a five-minute walk to Toyokawa Inari.
General Information
Toyokawa Inari (豊川稲荷)
Entry Fee: free
Opening Hours: 9:00 – 17:00
Address: 1 Toyokawacho, Toyokawa, Aichi 442-0033
Website

|

Google Maps
Musubichaya (むすび茶屋)
Opening Hours: 11:00 – 17:00; close Thursday
Address: 27 Saiwaicho, Toyokawa, Aichi 442-0046
Website (Japanese only) | Google Maps
Shiki Gitsune (一年狐)
Opening Hours: 10:00 – 17:00; close Wednesday, Thursday
Address: 25, Monzencho, Toyokawa, Aichi 442-0037
Website (Japanese only) | Google Maps