Airports, especially in high season, can be somewhat stressful with people coming and going, with long queues at check-in desks, and all that stuff. They can also sometimes be intimidating places when a security problem arises. Airports are places that, unless you are going to take a flight, transfer to another flight, or you are part of the airport staff, you don't usually step on them for no other purpose.
But, have you ever tried to just visit the airport for one day?
The other day I decided to visit the Chubu Centrair International Airport (NGO) and, for my surprise, I discovered that there are really interesting, fun and creative things you can do to while you spend your time at the airport. With a little planning and the intelligent use of the many services and facilities available, you can turn a visit to the airport into an incredible experience. That's right, just as you hear it!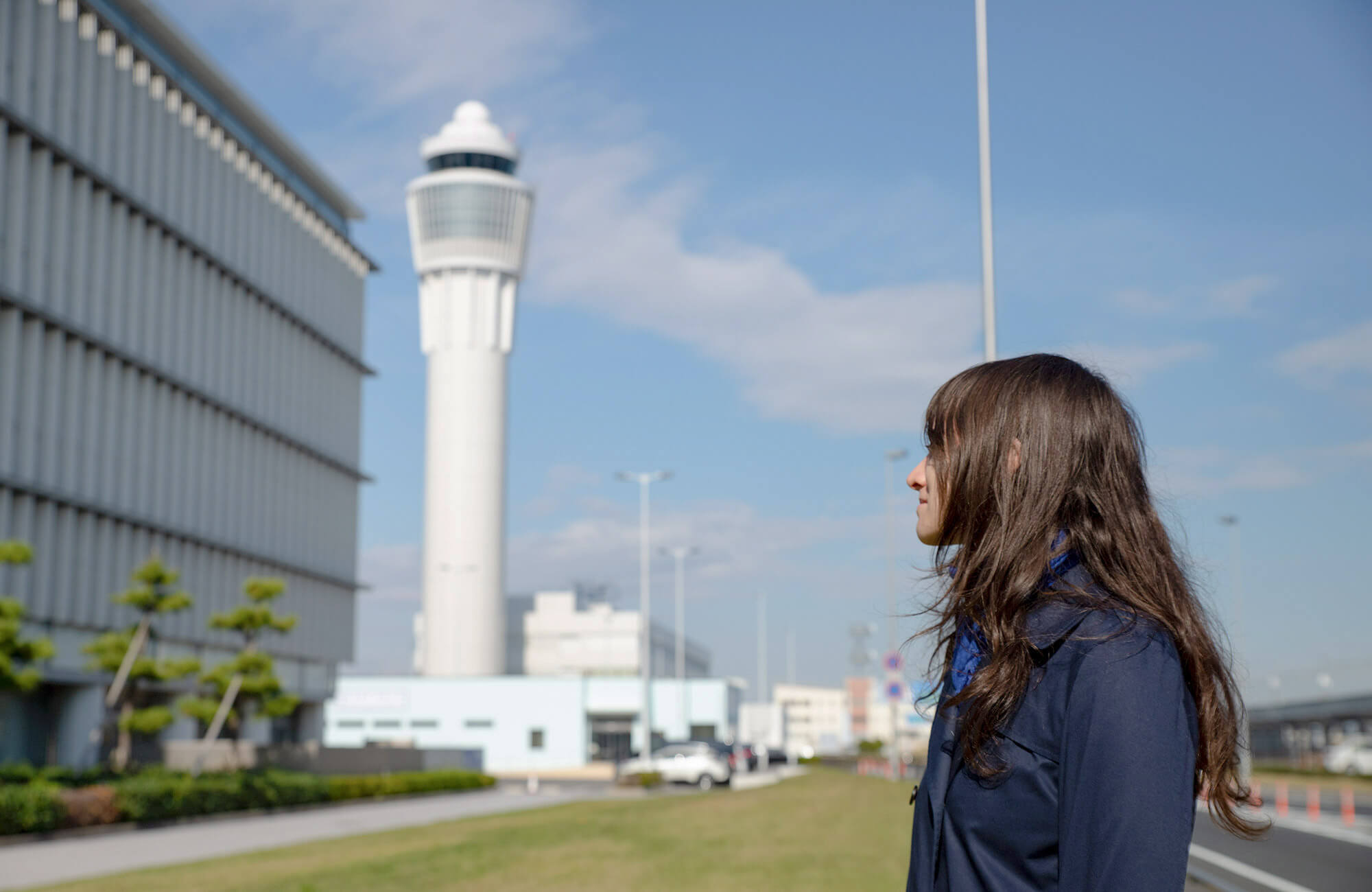 About Centrair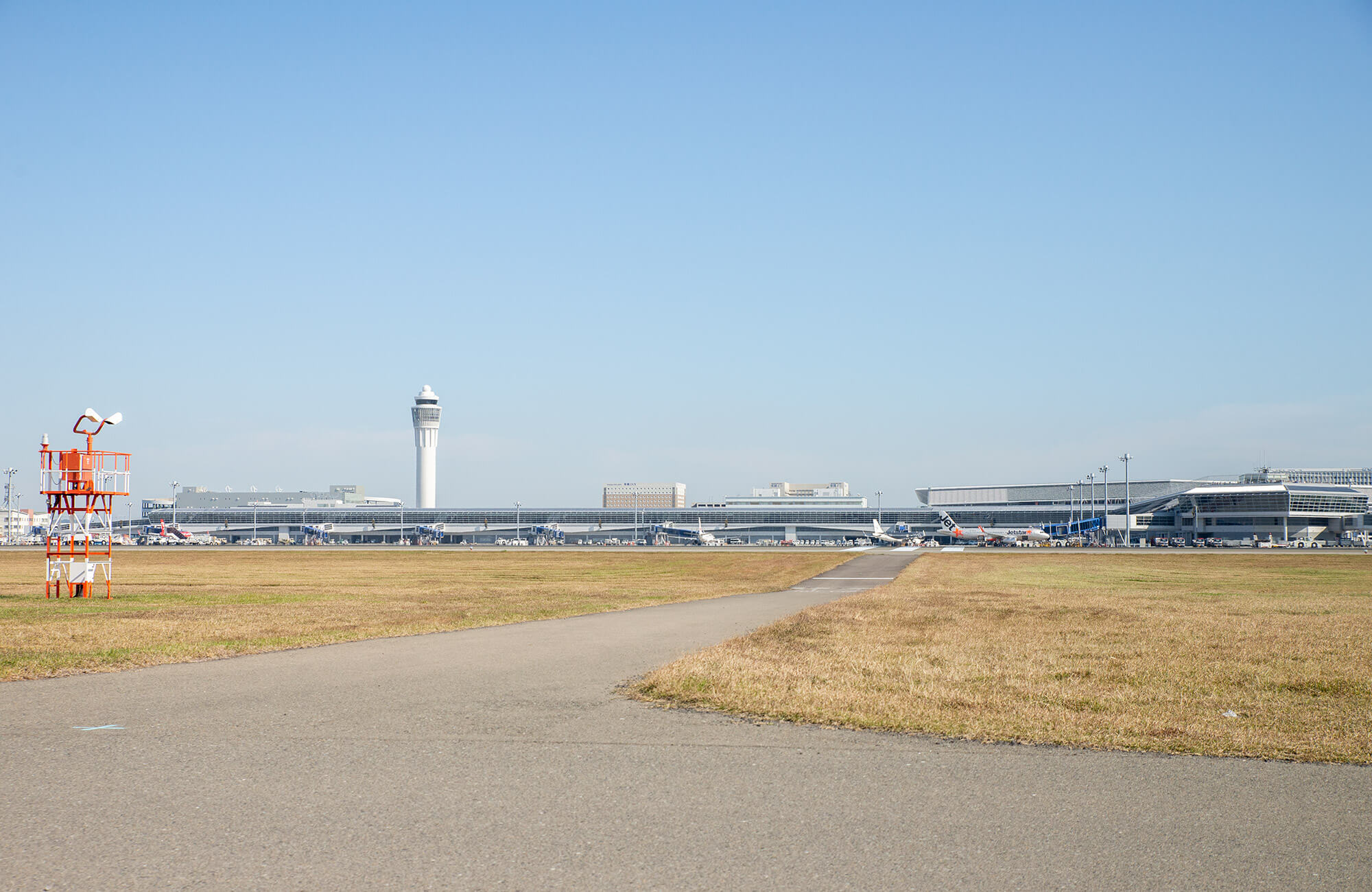 Chubu Centrair International Airport (中部国際空港 セントレア Chūbu Kokusai Kūkō Sentorea), or more commonly called Centrair, opened its doors in February 2005. It is built on an artificial island in the center of Ise Bay, just half an hour from the city of Nagoya, and it's the gateway to Aichi prefecture. In 2015 Centrair received the prestigious Skytrax award for "Best Regional Airport in the World", and since then it has continued to occupy the first place for 4 consecutive years. In addition, Centrair is the second cleanest airport in the world.
Centrair, more than an airport is an entertainment complex with lots of shops, relaxation places, spas, gardens, restaurants, cafes and more. There is much more you can do than go shopping, eat and drink. In this post I'll give you some ideas for spending a day in Centrair — pick and choose those that you most want to do.
1. How about a Runway or a Terminal tour?
Centrair offers the service "Maruwakari Tour", a tour service that has two tours with different routes, where you can visit the airport terminal or you can visit the runway.
The Runway Tour
This is a guided tour on a tourist bus to the runway. A HIGHLY RECOMMENDED tour if you are an airplane fan. The tour consists of a tourist bus route through the different areas that are around the runway, while the guide explains in every detail very interesting details about each area. Also, you can see from very close distance the planes take off and land. It's an incredible experience that you should not miss. I explain this entire experience in this other post. Take look!!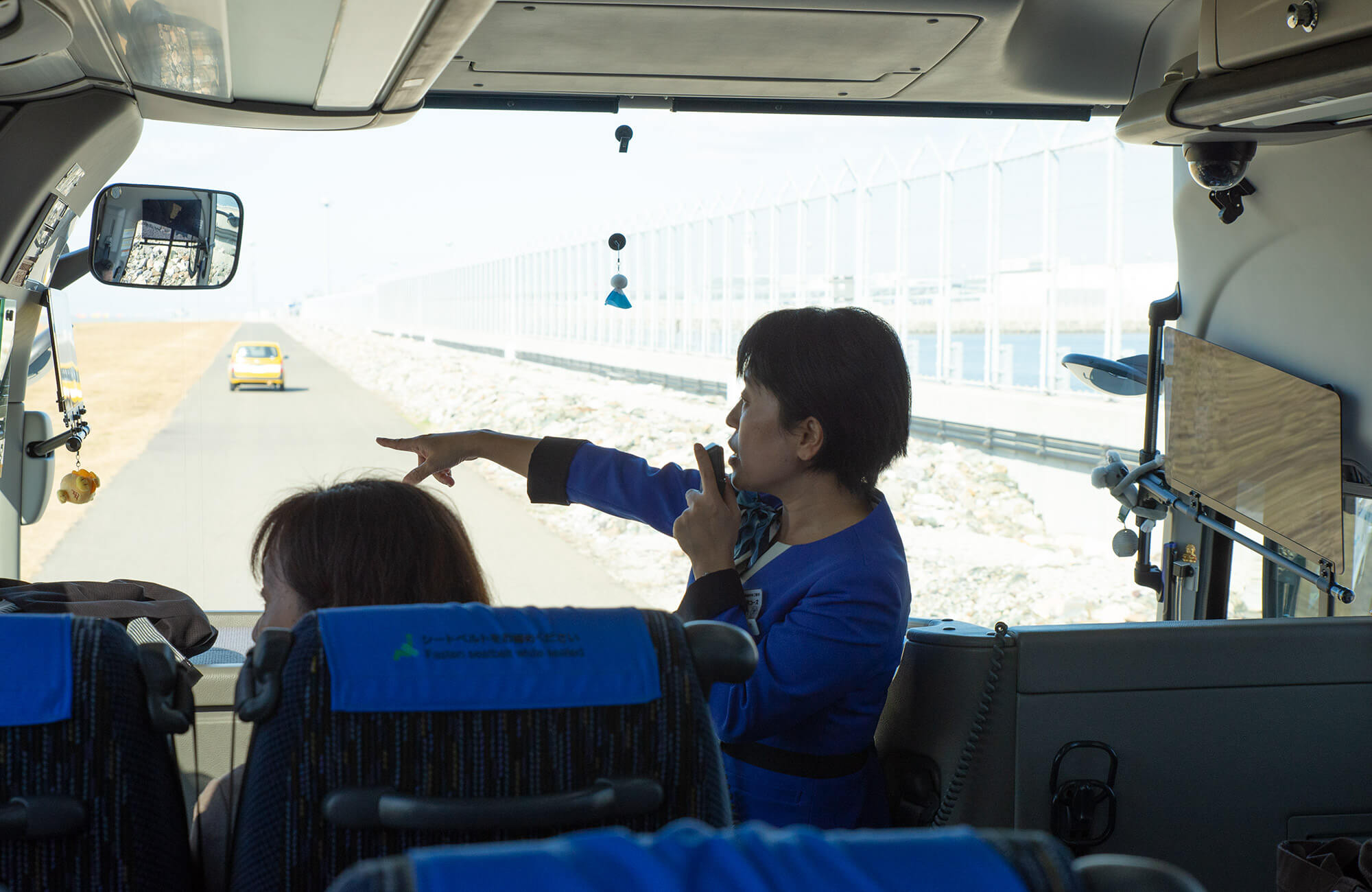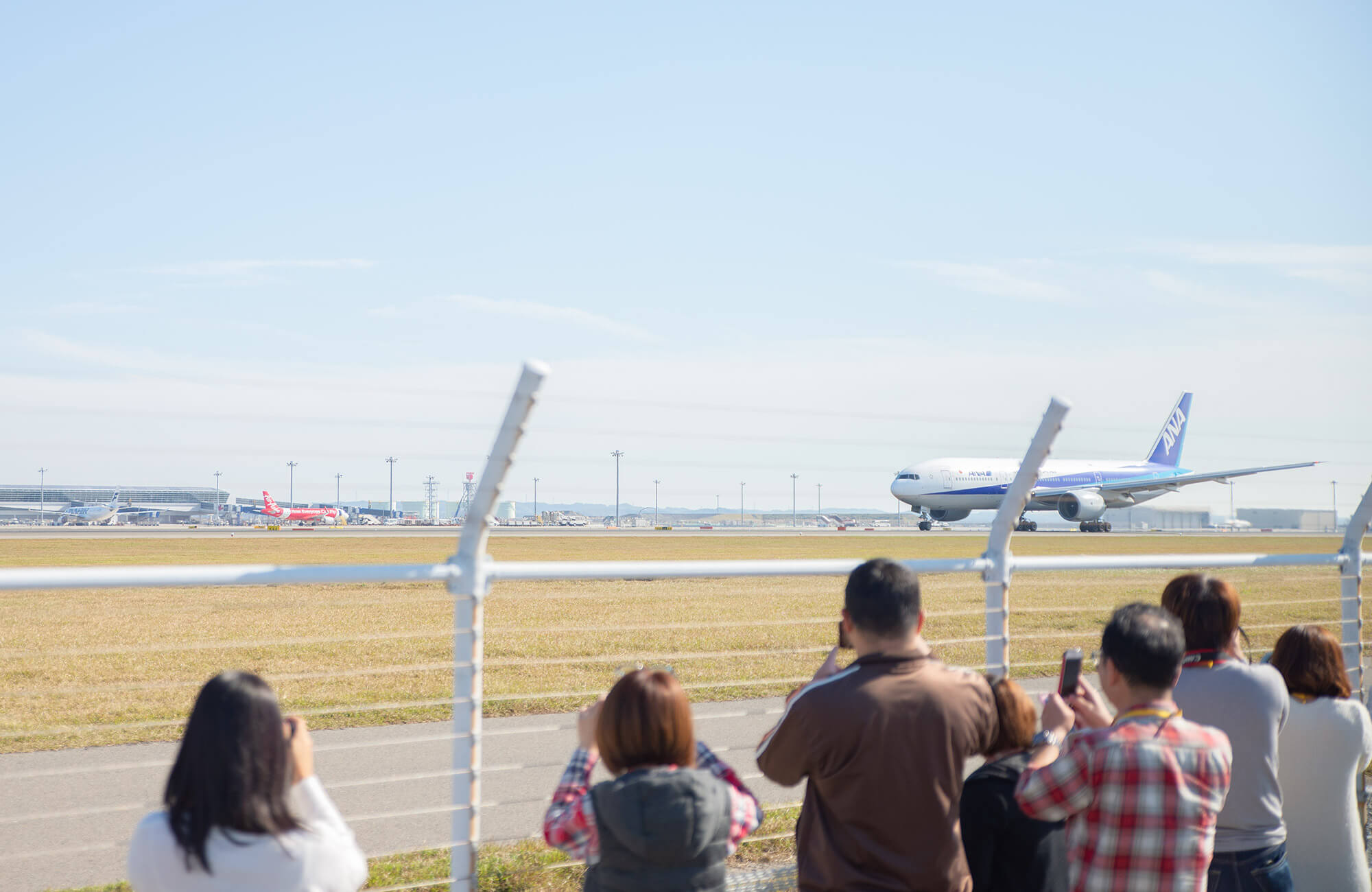 Tour duration: 90 minutes
Price: 3,480 yen (free for children under 3)
Reservations: Online (Japanese)
* Reservations 8 days in advance.
* Tour facilitated by ABC Aichi Bus Co., Ltd.
Currently these tours are available only in Japanese, but an English tour is planned to be released during this year.
Terminal Tour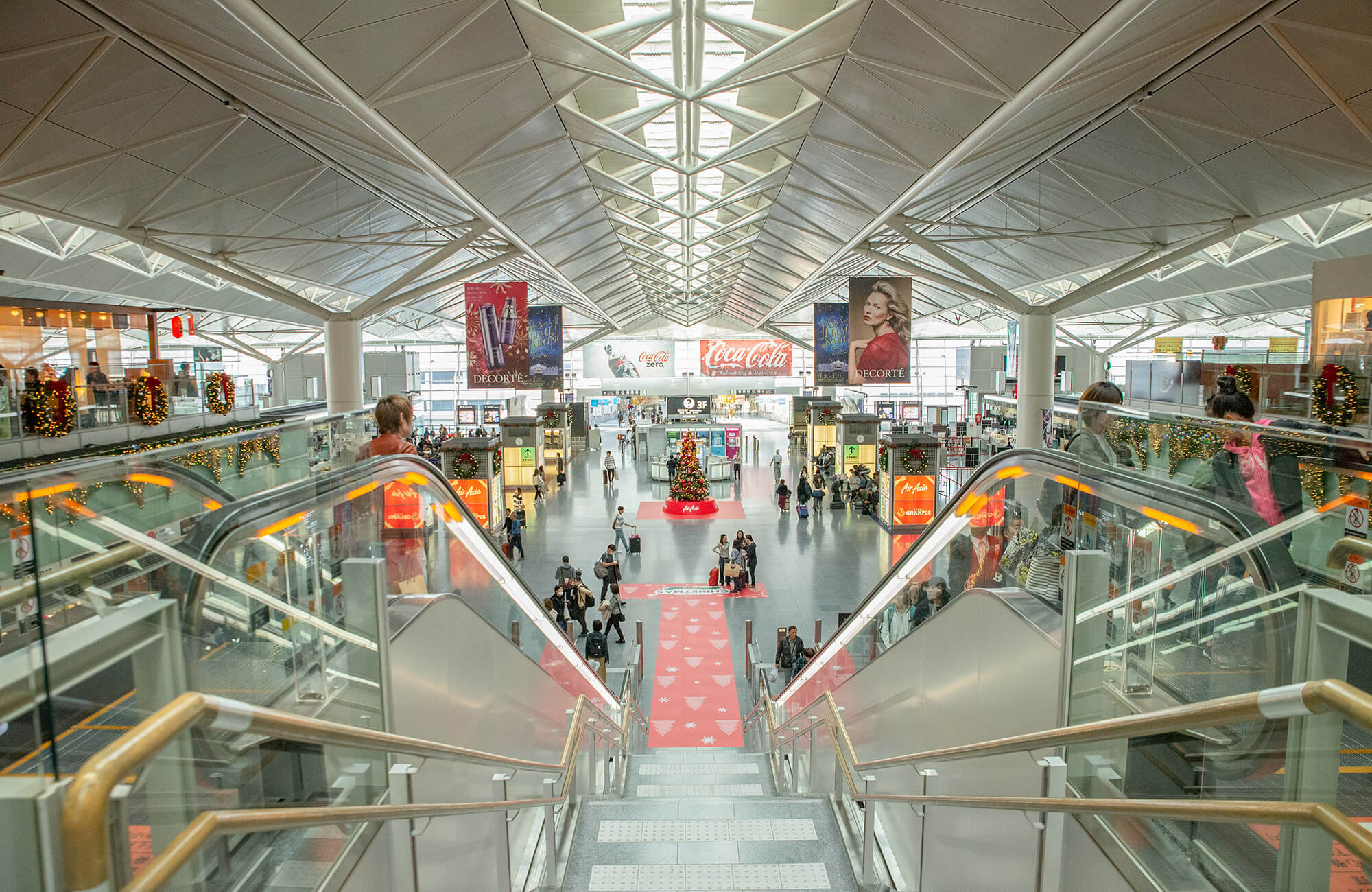 This is an exclusive guided tour where you can discover the most interesting places in the Terminal. You can see the artwork displayed. For example the Wright brothers' first plane replica. Also you can also see the Weather Camera Corner, next to the Sky Deck, which usually is not available to the public because it's an restricted area.
This tour is done walking, four times a day: (1) 9:30 (2) 11:30 (3) 14:30 (4) 16:30.
Tour duration: 50 minutes
Price: adult 3,480 yen, Child 100 yen
* Payment method: only cash.
* Maximum 40 people.
Reservations: By phone.
Centrair Maruwakaru Tours
TEL: (+81) 0569-38-7575
Booking hours: 10:00 a.m – 12:00 p.m , and from 1:00 p.m. – 4:00 p.m.
Closed from December 29 to January 3.
* You can book the same day, buy better if you book for advance. To make a reservation, go to the Welcome Garden (ウエルカムガーデン), located on the first floor of the Terminal Building. Once the reservation is made, you must arrive 15 minutes before the tour starts.
2. Watch the airplane traffic from the Sky Deck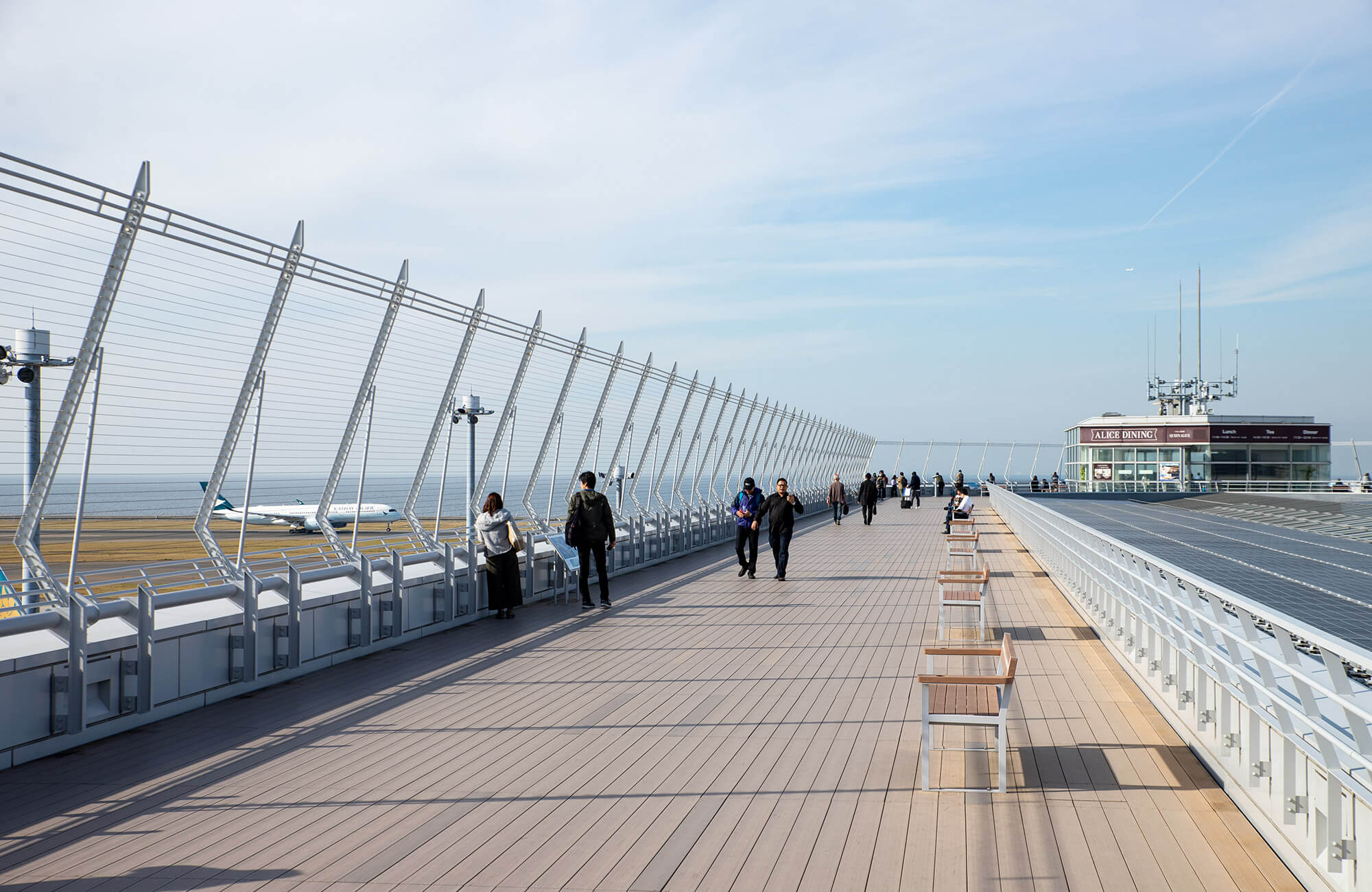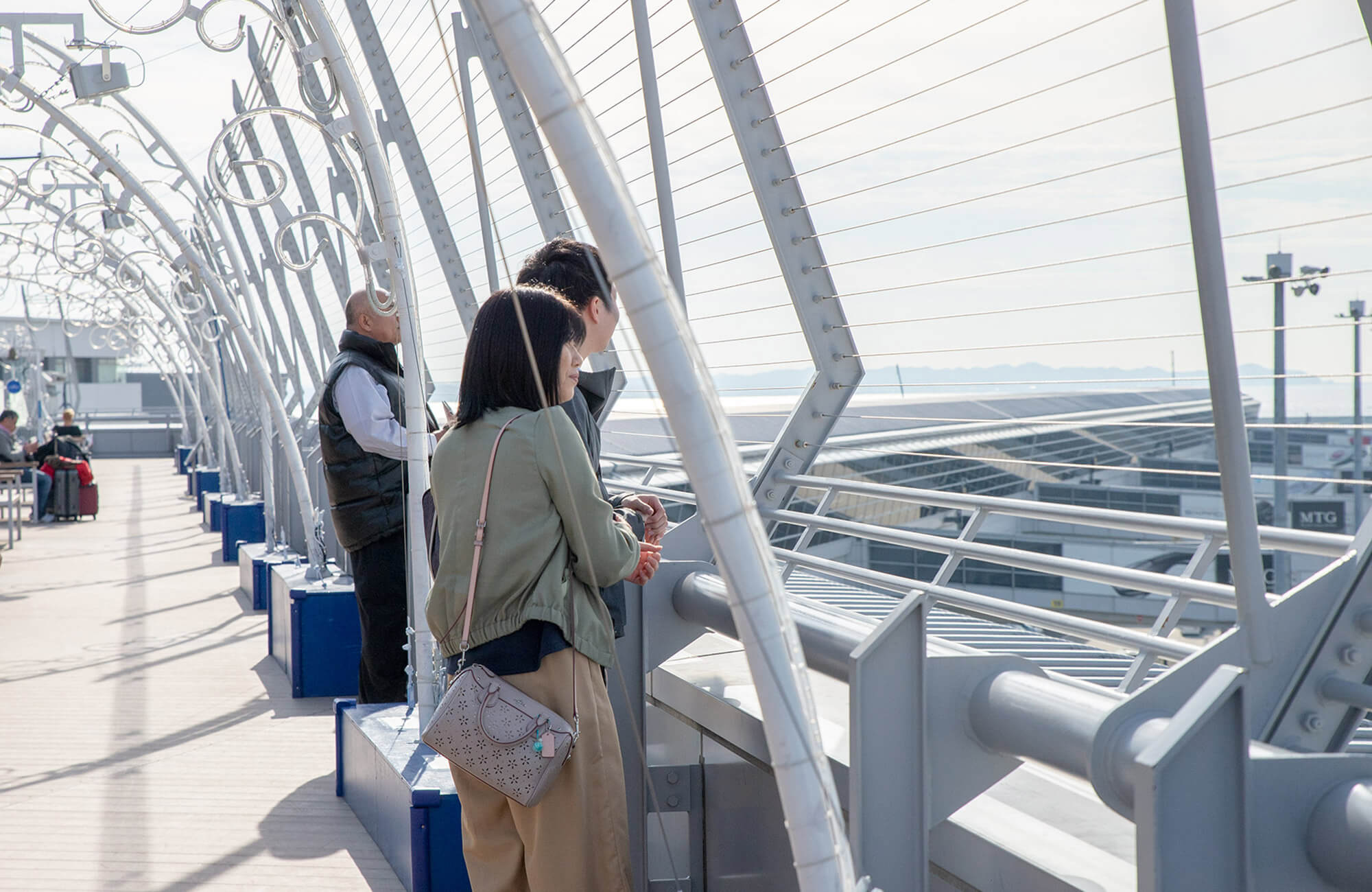 The Sky Deck is a 300-meter-long aircraft observation point that extends to the aircraft runway. This is the closest observation point to the runway in all of Japan. When the weather is fine, you can even see the opposite coast of the Ise Bay, as well as the boats that sail to and from the port of Nagoya. It is especially amazing at nightfall, when the planes take off and land at sunset with the bay in the background. At night, the aeronautical ground lights that cover the track create a magical atmosphere.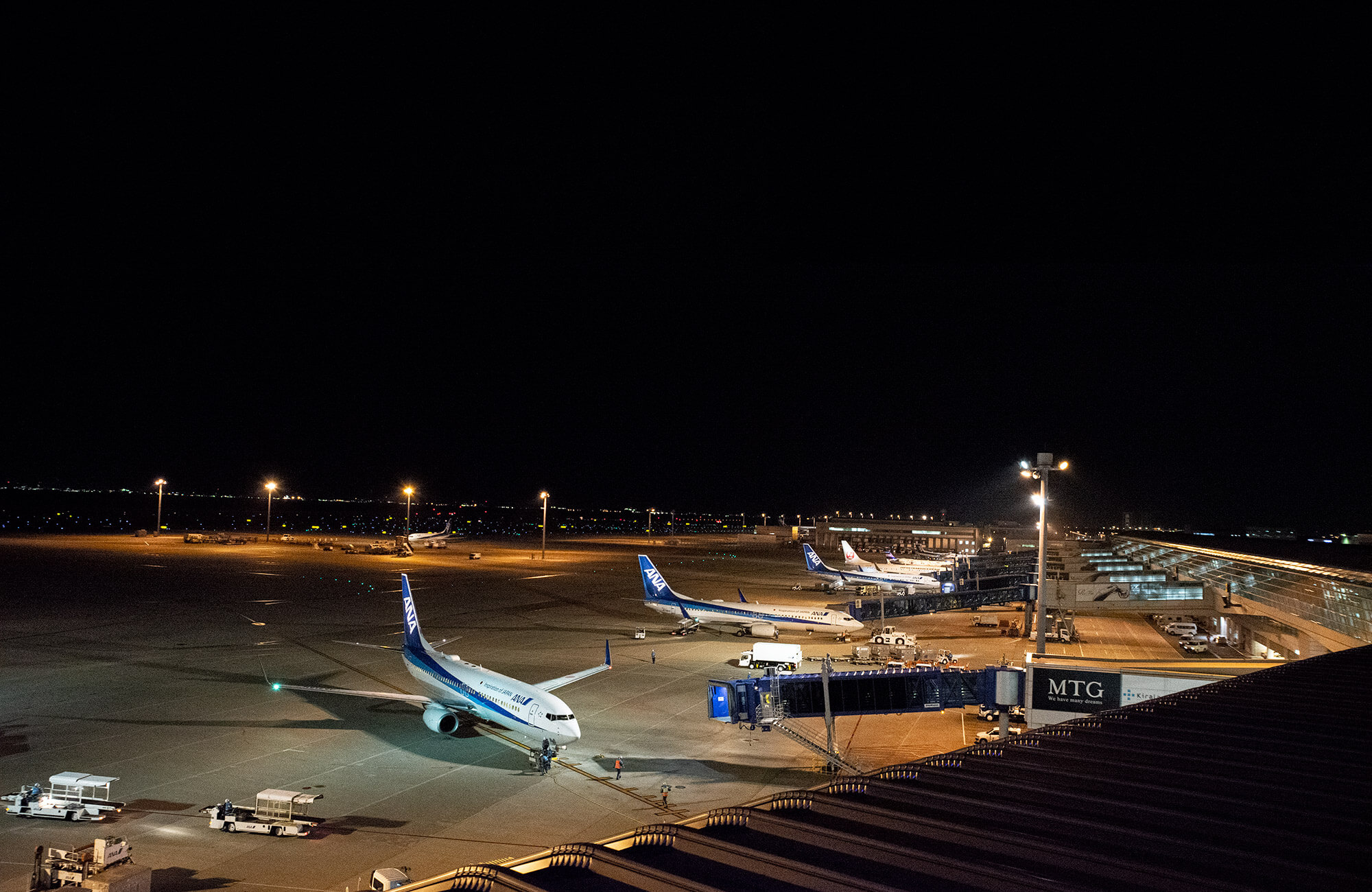 On the other hand, every year there in Christmas season there a Christmas lights installation called "Sky Illumination". This year 2018 the theme is"The Cathedral of Light", a cathedral represented by arches of lights with a flower chandelier in the center.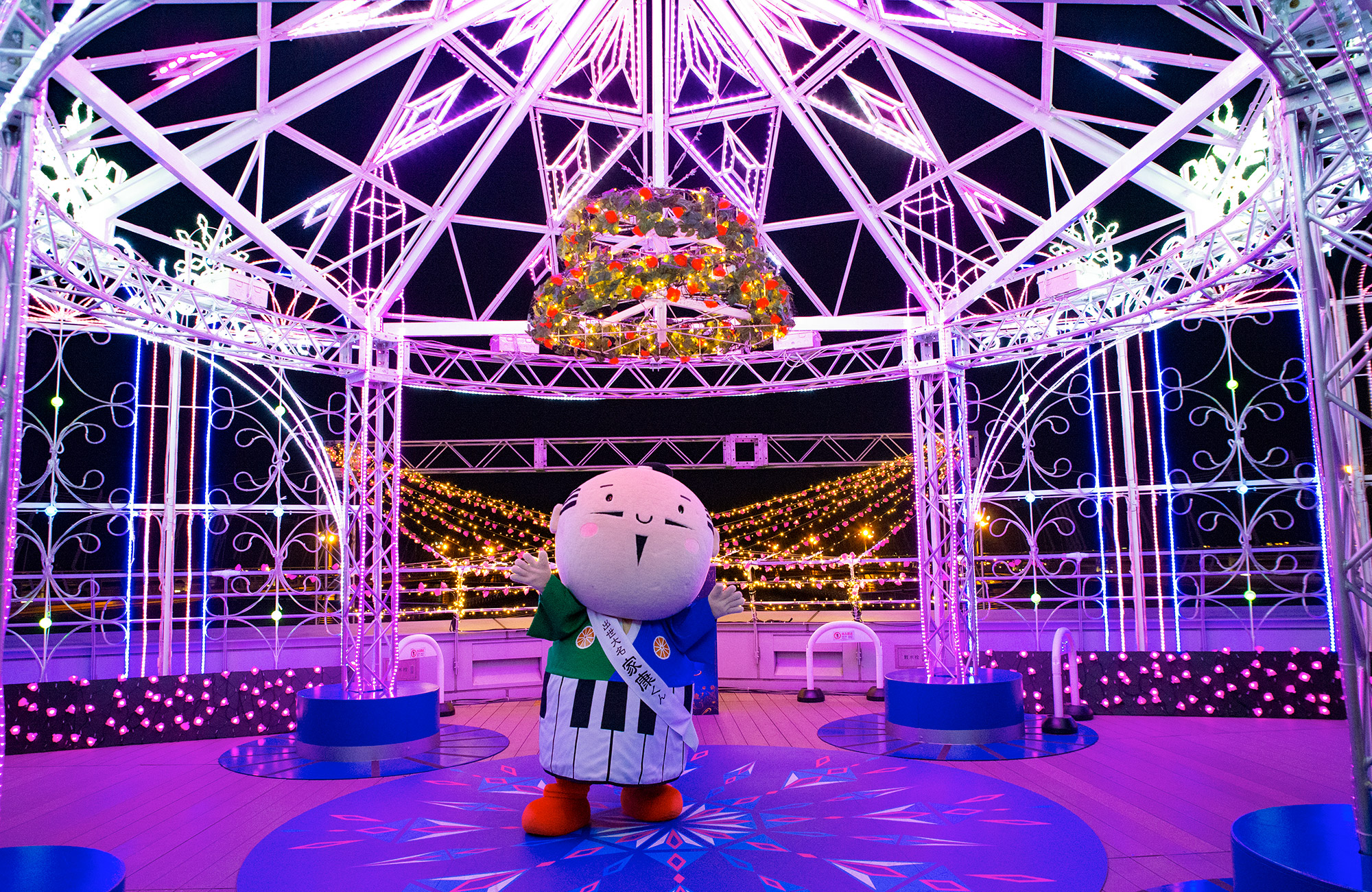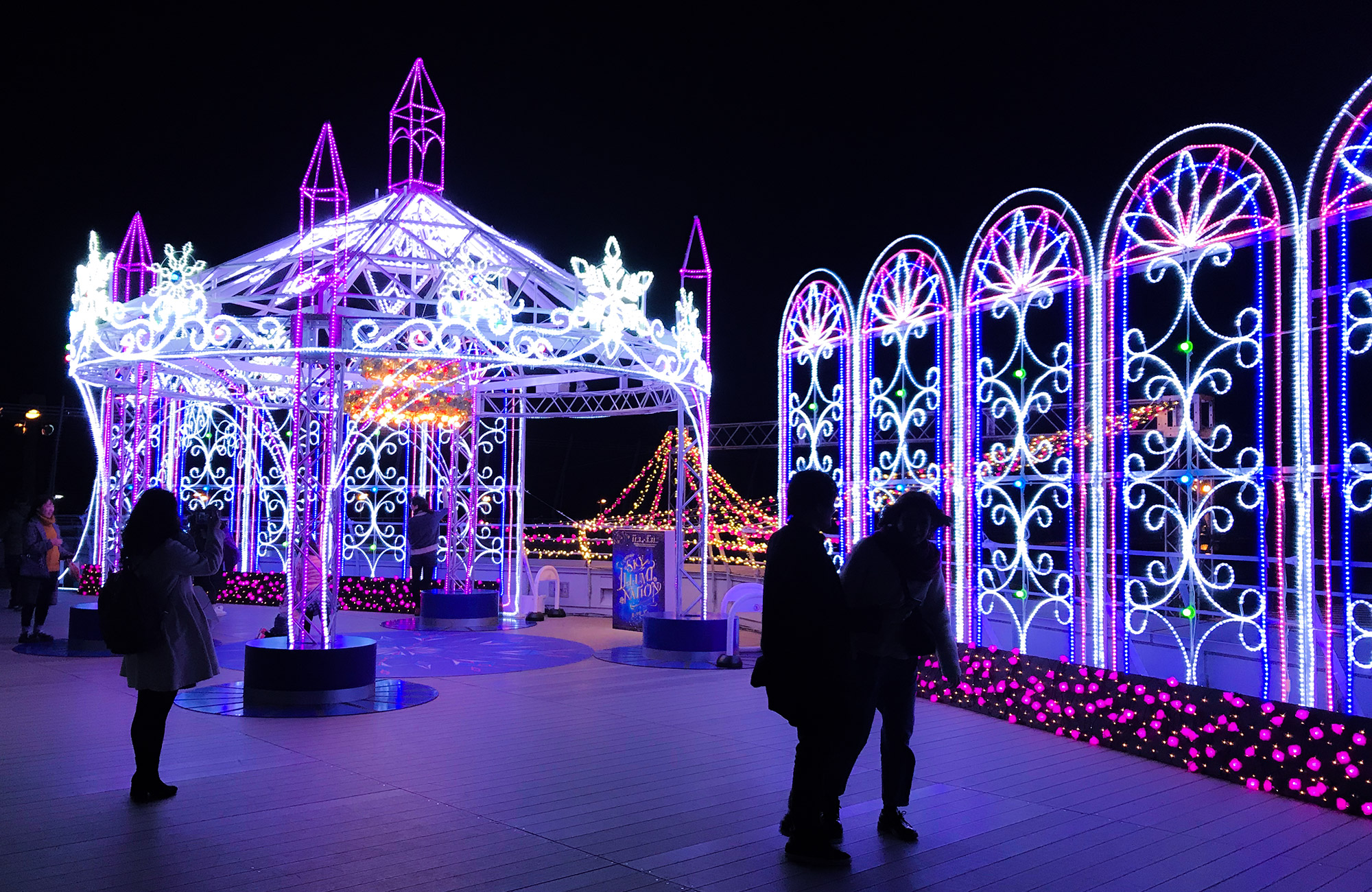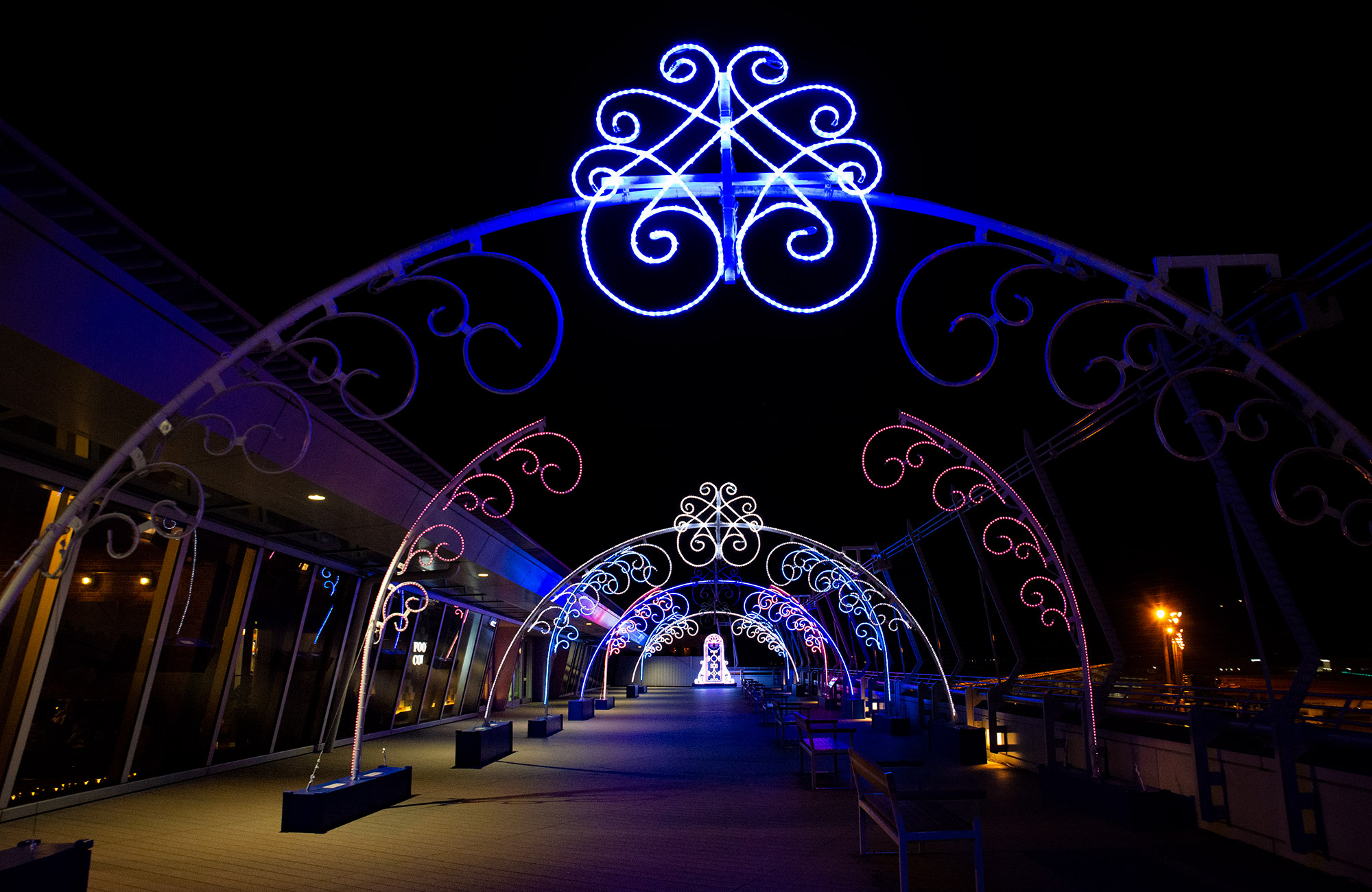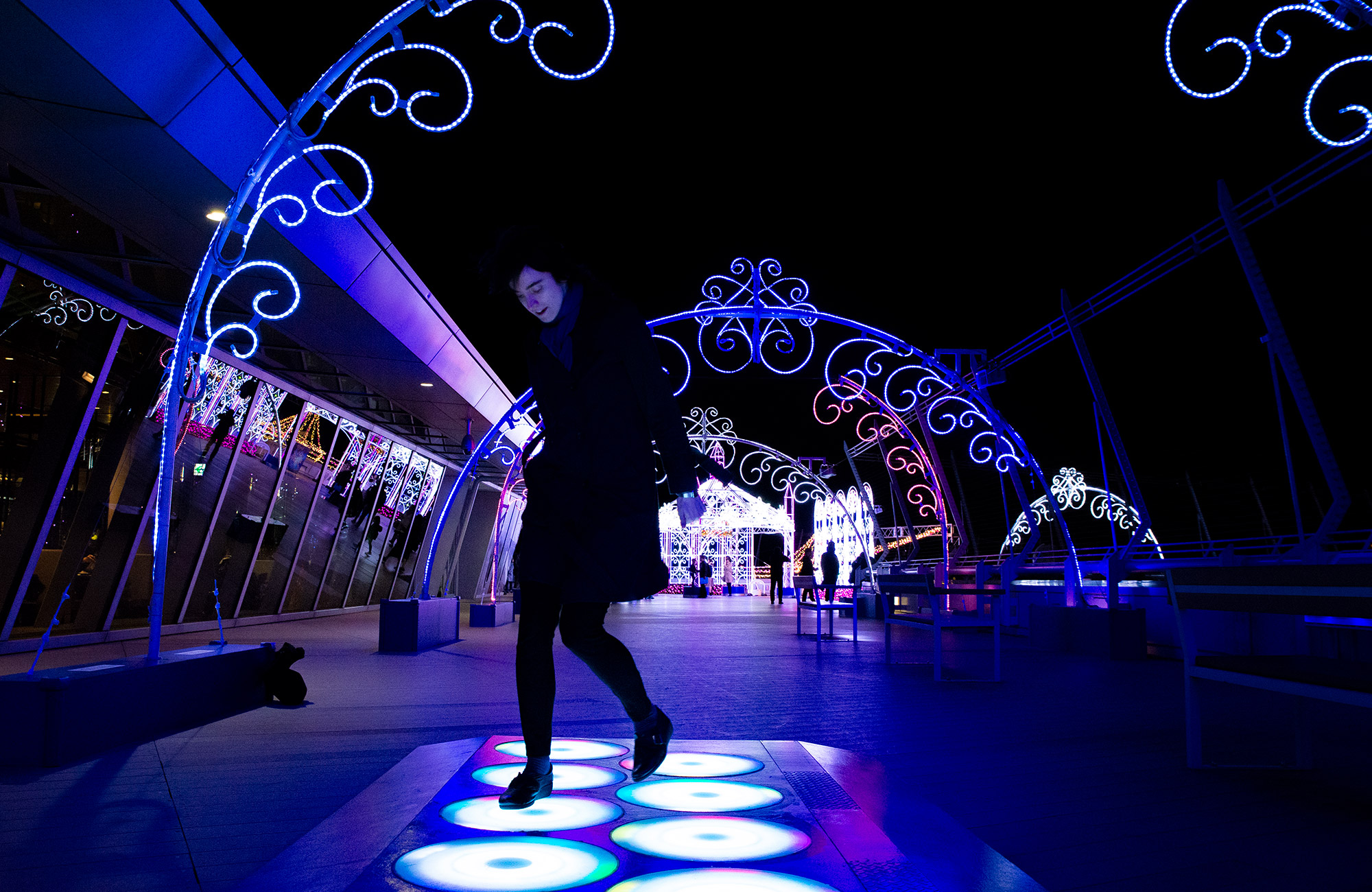 Hours: 7:00 a.m – 10:30 p.m
Prices: Free admission
3. Visit the "Flight of Dreams"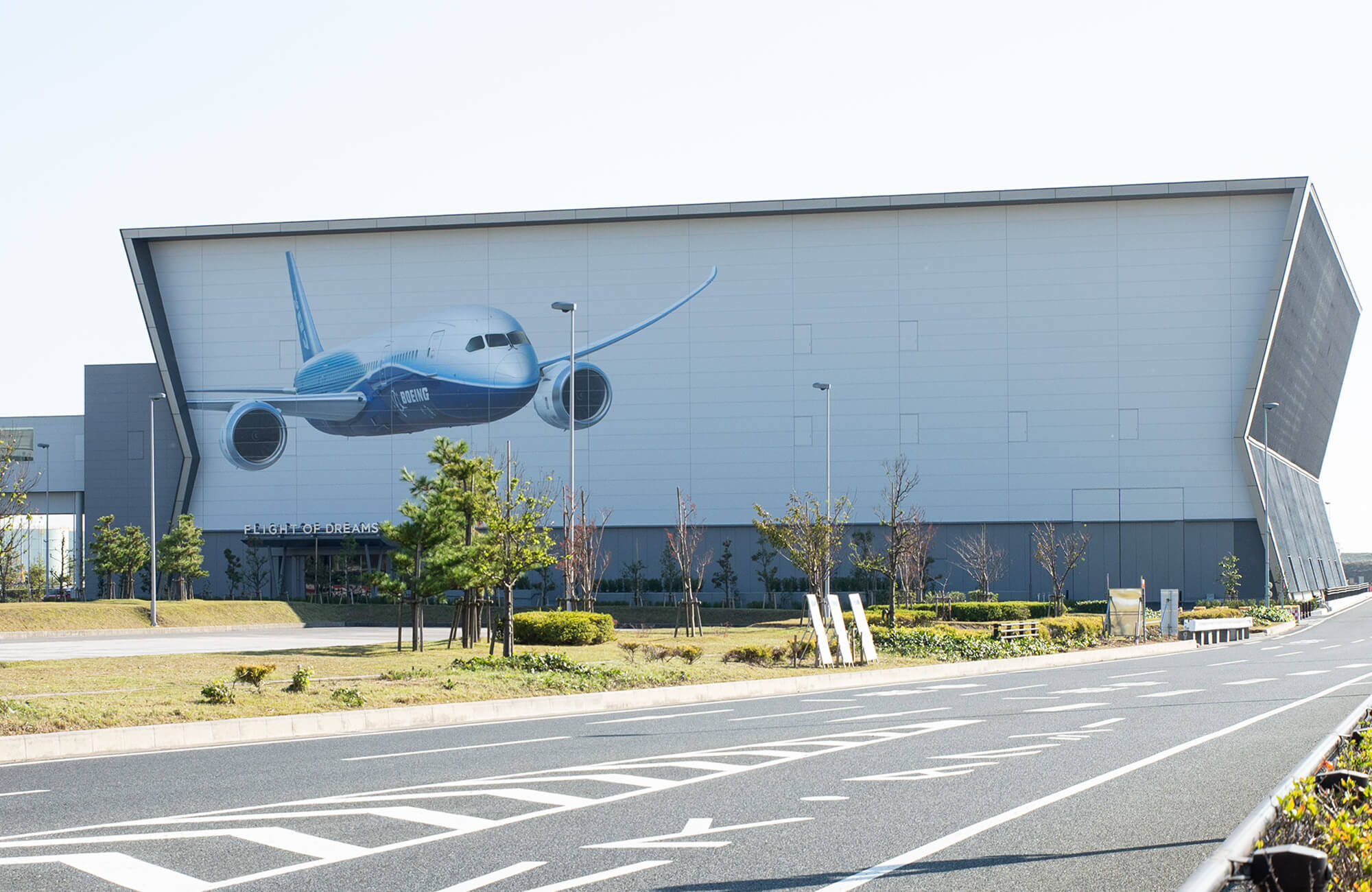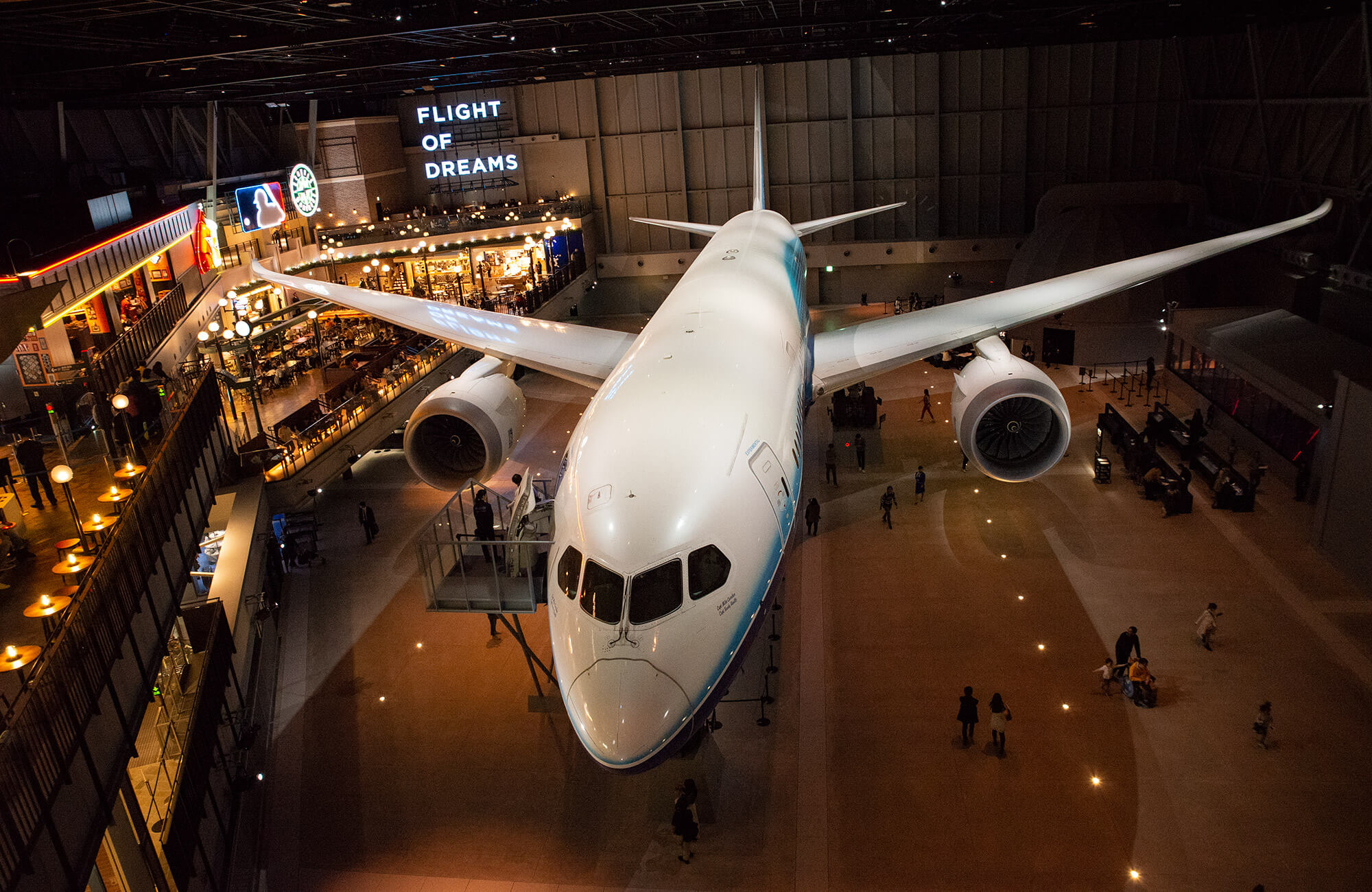 "Flight of Dreams" is a new installation of Centrair inaugurated on October 12, 2018.
The building has 2 areas: the Flight Park, where the first Boeing 787-8 Dreamliner test prototype (donated by the Boeing Company to Centrair) is permanently exhibited. Around the plane there are several interactive attractions, related to the plane and aviation in general, created by the famous Japanese team specialized in digital art content, Team Lab.* To enjoy this area you have to buy a ticket in advance or just go to the tickets desk.
An the second area, Seattle Terrace, inspired by the Seattle urban landscape, which is precisely where the Boeing company was founded. This area has restaurants and popular shops of the city.
This is also a VERY INTERESTING visit that I explain in this other detailed post.
Opening times:
FLIGHT PARK: From Sunday to Friday 10:00 a.m – 5:00 a.m (last entry 4:30 p.m), Saturday: 10:00 a.m – 7:00 p.m (last entry 6:30 p.m).
SEATTLE TERRACE: 10:00 a.m – 22:00 p.m
– Restaurants: 10:00 a.m – 10:00 p.m
– Stores: 10:00 a.m – 6:00 p.m
Prices:
FLIGHT PARK:
Adults: Individual 1,200 yen, Groups (20 people and up) 1,100 yen.
Children (from 3 to 12 years old): Individuals 800 yen, Groups (20 people and up) 700 yen.
Under 3 years old: Free admission
SEATTLE TERRACE: Free admission
4. Take a walk along the shops and restaurants avenue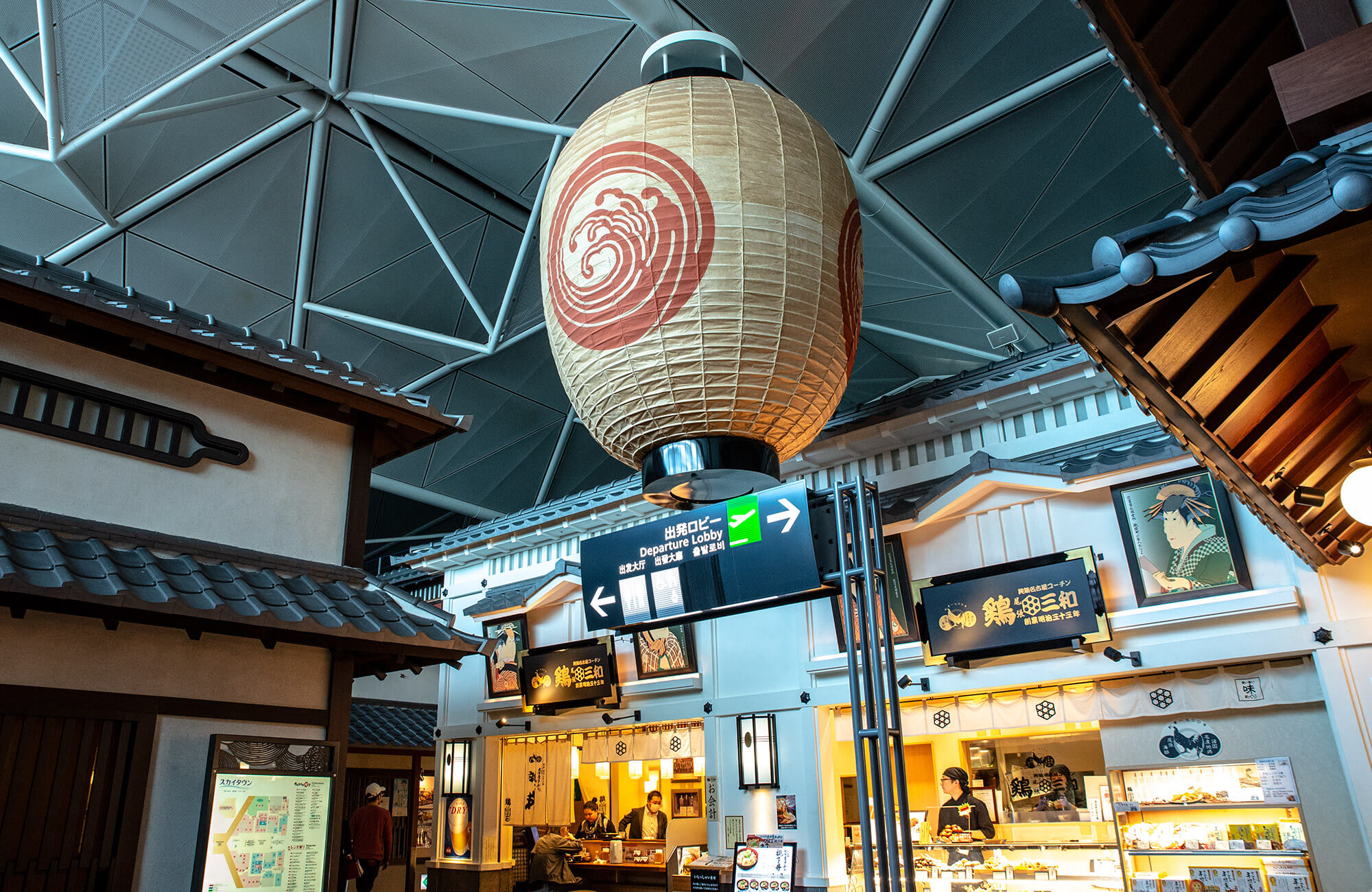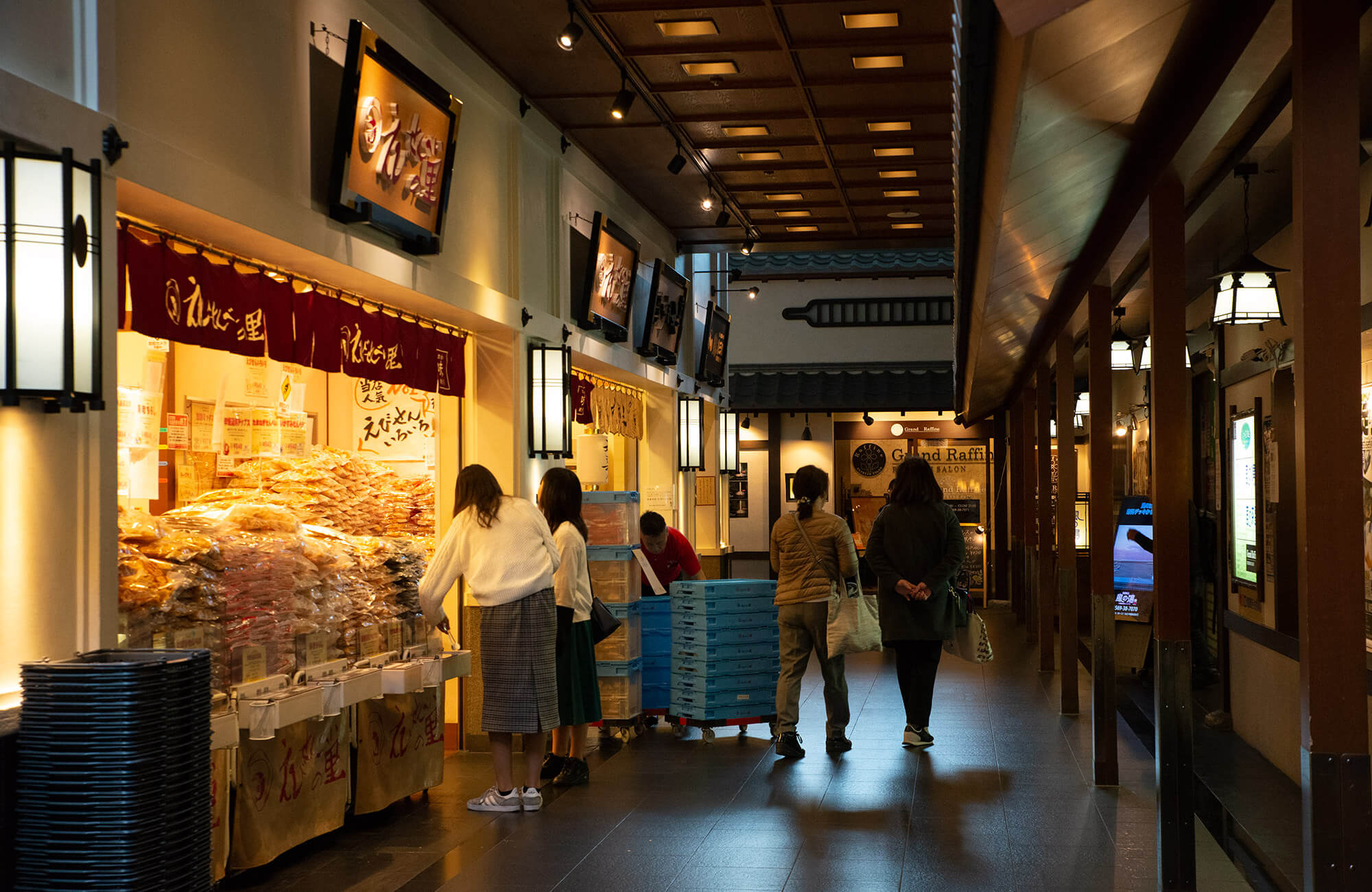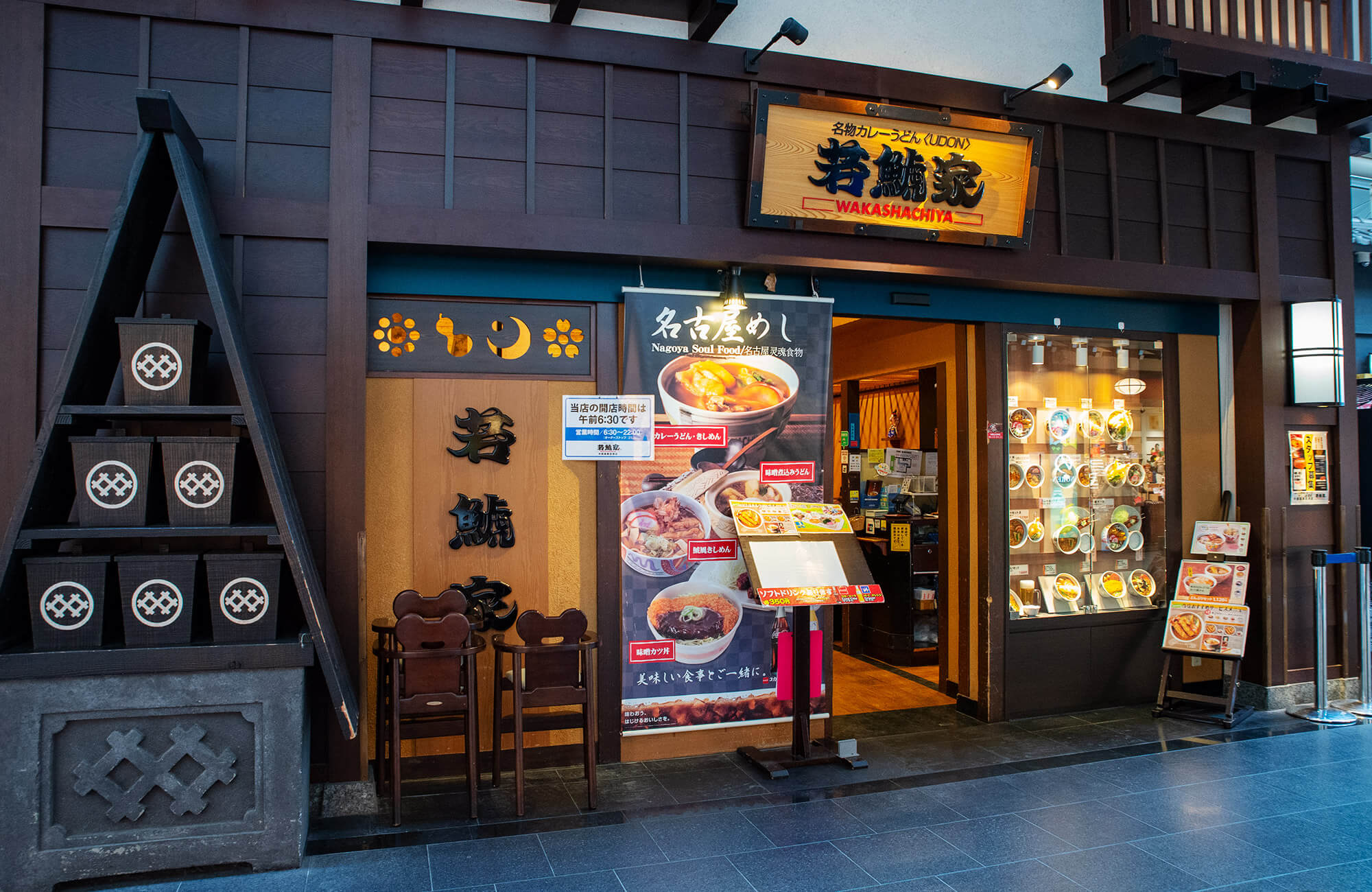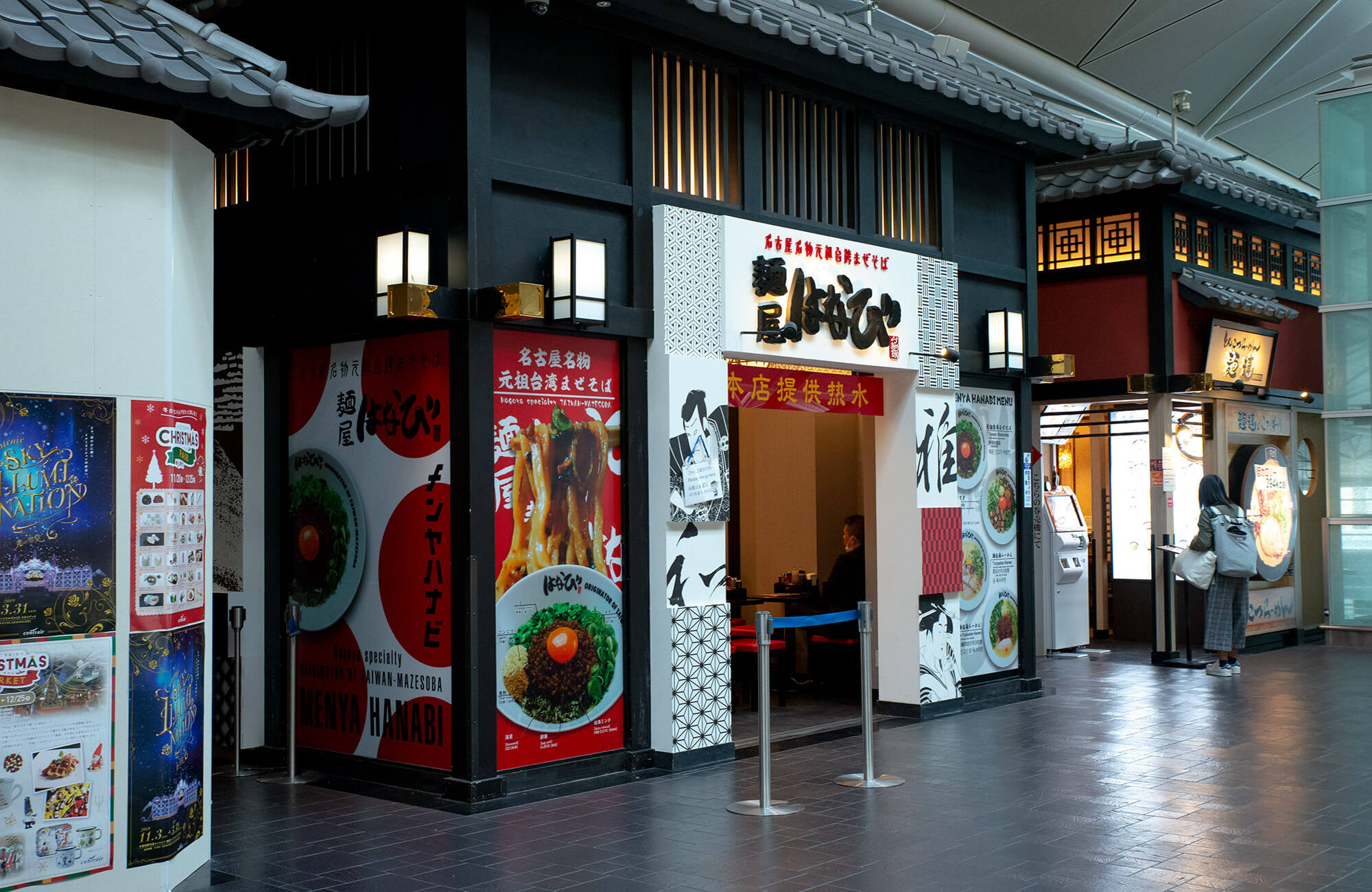 The Sky Town is the shopping area of the Terminal. This commercial area is divided into two zones: one western and one eastern. The western zone recreates European shops and restaurants, while the eastern zone recreates an ancient Japanese city.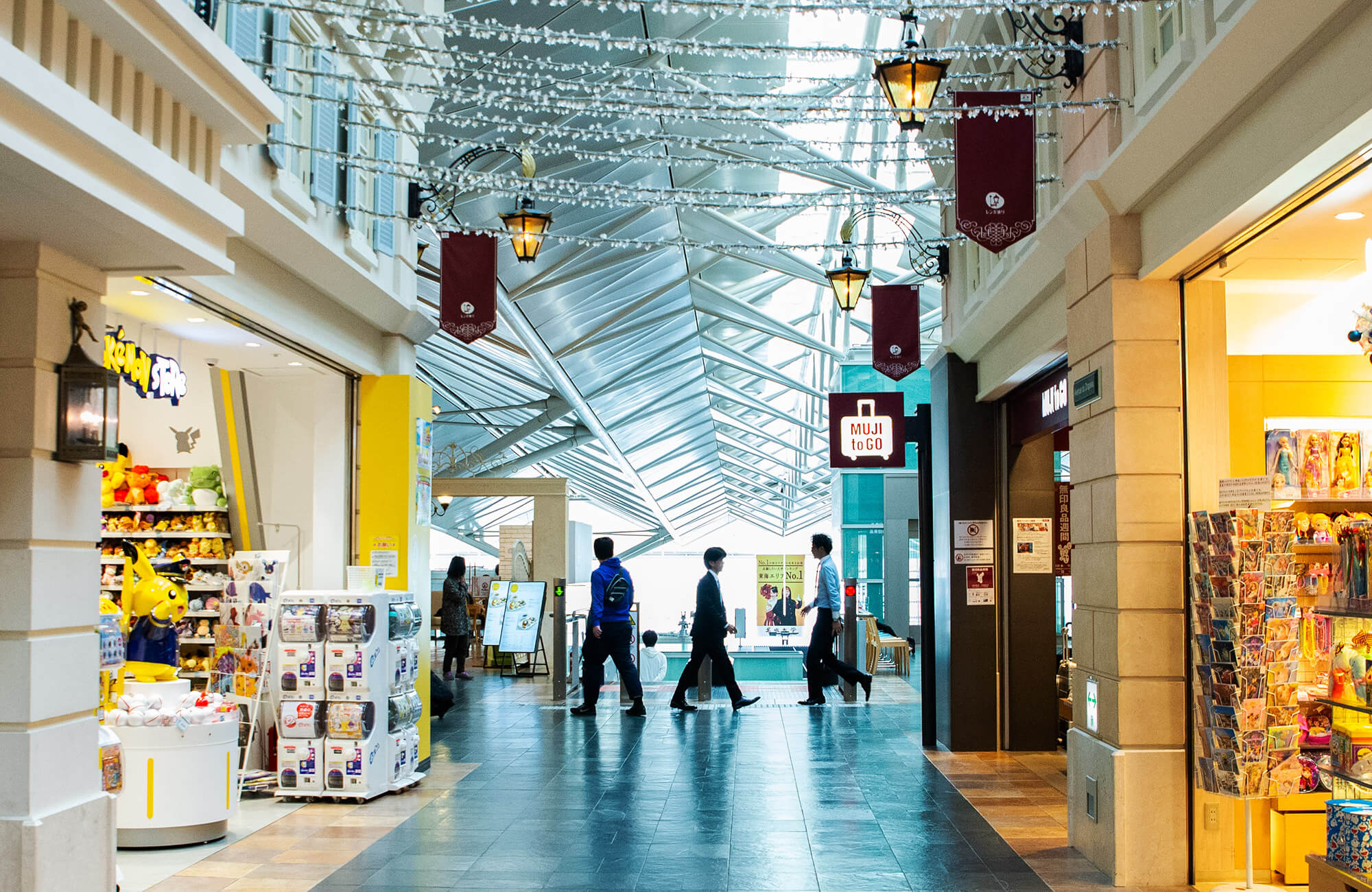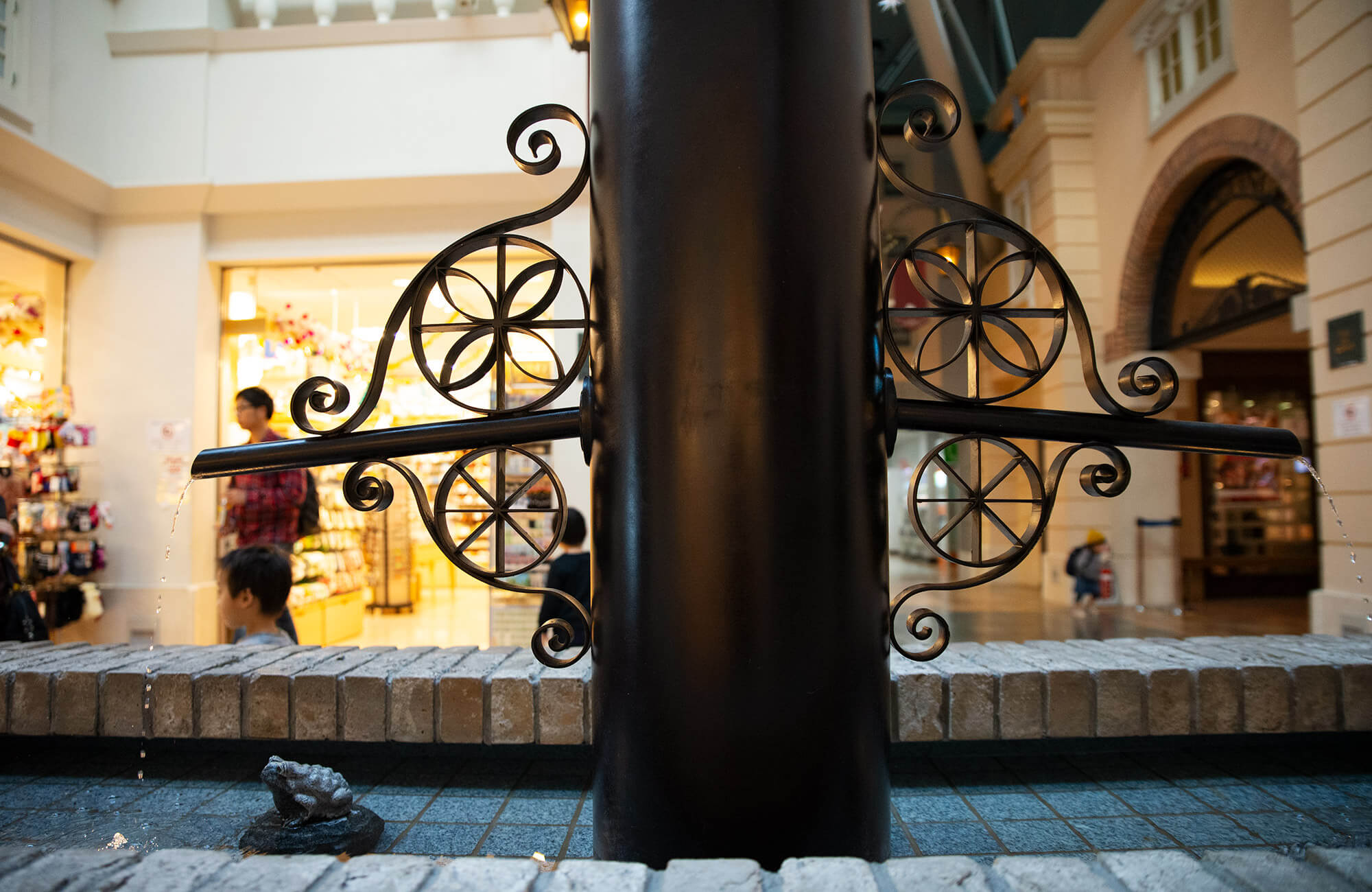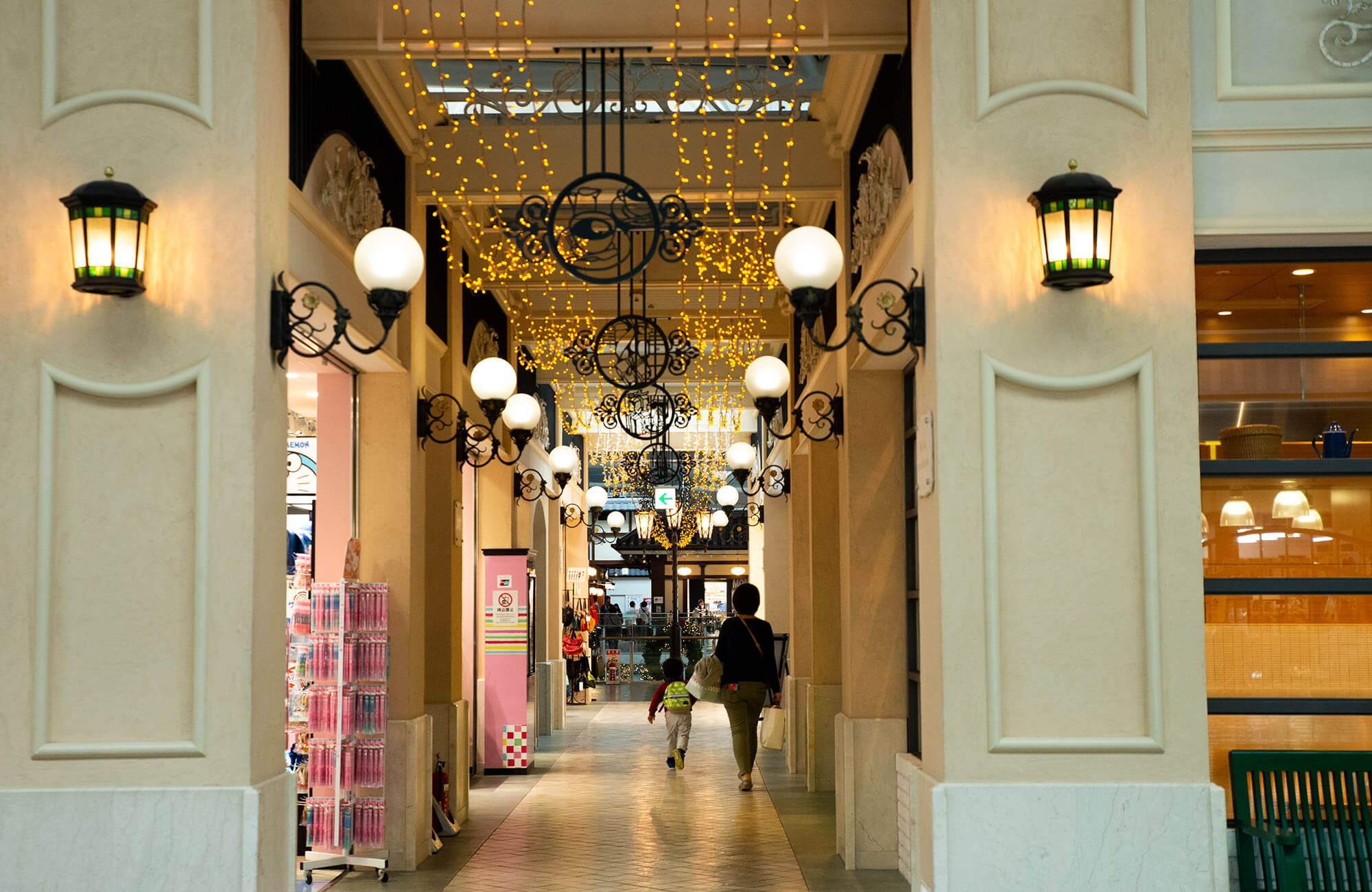 In the square, right in the middle of these 2 zones, events such as exhibitions and concerts are frequently organized.
5. Just relax!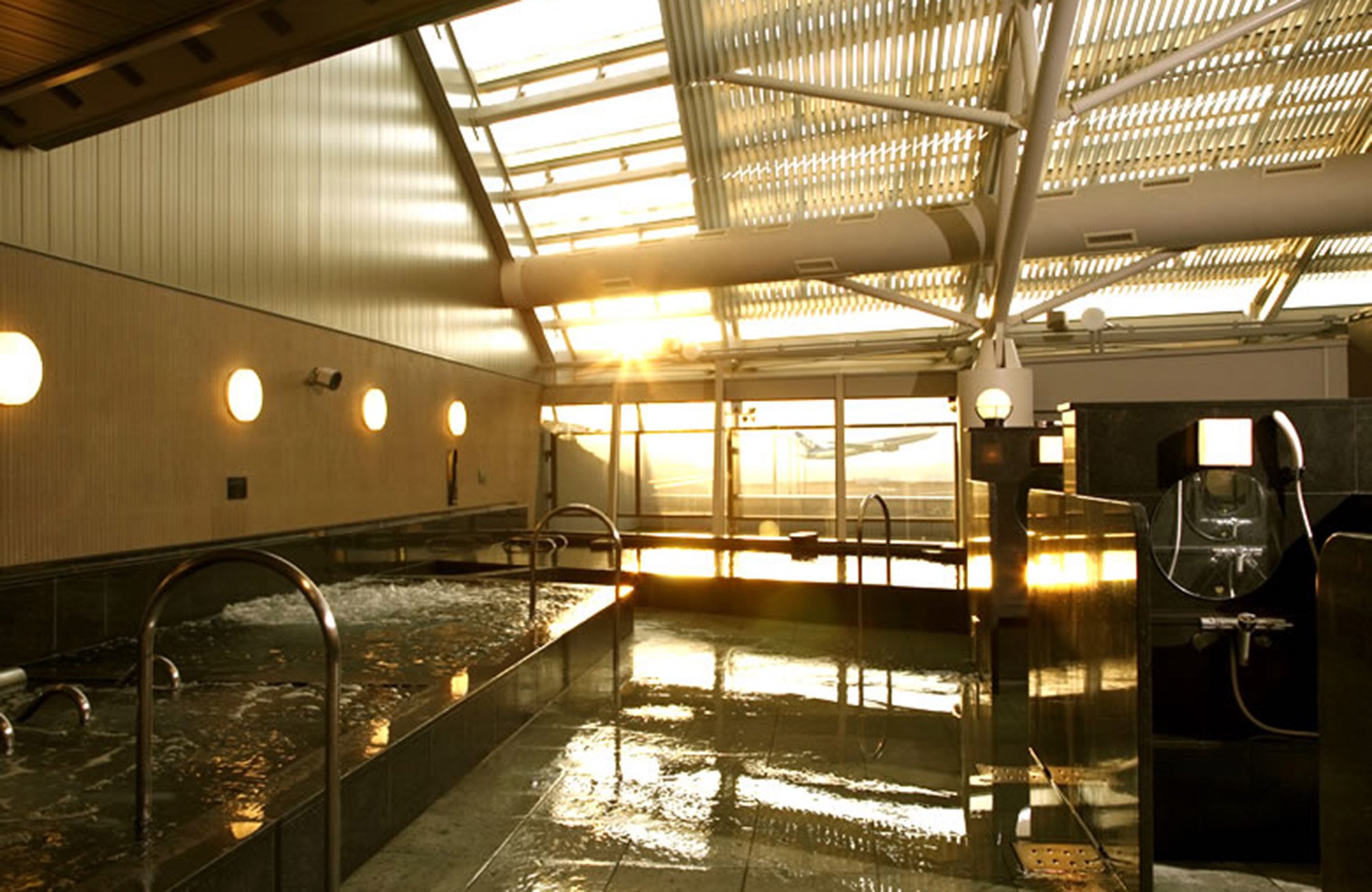 In the Sky Town you can find relaxation facilities such as the Japanese-style spa (Onsen) Fu no Yu (風の湯). This is the first onsen in Japan with a view to the runway. Not only you can observe how the planes take off and land from a close distance while you are submerged in the bath, but you can also see Ise Bay.
Fu no Yu offers a free Baggage Service, where you can leave your luggage and be able to relax without any worries.
Hours: 8:00 – 10:00 p.m (last entry 9:00 p.m.)
* Open until 6:00 p.m. on the third Wednesday of each month (last entry 5:00 p.m.)
* Closed on the third Wednesday of November.
Prices: Adult 1,030 yen, Child 620 yen, Under 6 years 210 yen.
* Includes the rental of bath towels for adults and children. Baby towels are not included.
You also have the Grand Raffine, a relaxation space which offers an extensive menu of massage and aesthetic services, including body care and beauty treatments.
Hours: 9:00 – 9:00 p.m (last entry 8:15 p.m)
Tips
If you have to stay overnight in Nagoya and you need to be close to the airport take note of this. There are several hotels directly connected to the terminal building of the airport: the Centrair Hotel and the Comfort Hotel. You can also try the Hotel Capsula TUBE Sq, located inside the terminal of Chubu Centrair International Airport. Check the websites of each hotel to know the rooms availability, or "capsules" availability.
Getting Here
By train
It is the fastest, easiest and most convenient way to go to Centrair. Take the train from the Meitetsu line. The train Sky Limited Express (Myu Sky), is the fastest because it takes only 28 minutes. But it is a bit more expensive and you have to pay for the first class seats. The price is 1,230 yen per trip + 360 yen for the seat reservation.
There is another train, a Limited Express that takes about 35 minutes and you can choose between first class or ordinary seats. If you choose ordinary seats, you will only have to pay the basic rate 870 yen.
By bus.
Another option is to take a bus-limousine from the Meitetsu company at Nagoya station. There is a bus every hour and it takes about 88 minutes. Oneway price is 1,200 yen for adults and 600 yen for children.
General Information
Address
1, Centrair, Tokoname-City, Aichi
Google Maps
Opening Hours
Terminal Building: 5:20 a.m. to 11:30 p.m.
Access Plaza, convenience stores: open 24 hours.
Sky Town: Opening hours may vary by store and restaurant
Useful links
Visit the website Facebook Instagram Watch the Centrair video presentation